Podcast: Play in new window | Download | Embed
Subscribe: Apple Podcasts | RSS
PODCAST-A rider on a sports motorcycle is arrested after thinking he would not stop for a California Highway Patrol Motorcycle Officer after riding recklessly on a freeway
PODCAST/BLOG-Authorities have arrested the idiotic motorcycle rider suspected of filming and waving off a California Highway Patrol Motorcycle Officer who was trying to stop him and other riders doing stunts on the freeway.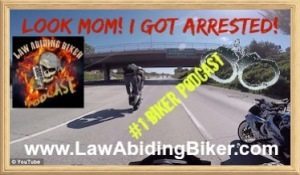 Fortunately, the CHP says 32-year-old Guruardas Singh Khalsa, of Brentwood was arrested Wednesday at his home on suspicion of being an accessory after the fact and delaying or obstructing an officer.
This incident occurred on Interstate 680 in Milpitas. A group riding sports type motorcycles are seen doing stunts on the freeway with no respect or regard for anyone else.
A CPH motorcycle officer gets in the group and politely tells this rocket scientist of a biker to stop the behavior with no citation. The officer ends up pulling ahead, and the motorcyclist waves goodbye as another rider puts a fist in the air. Don't do the victory wave yet bro…..LOL
CHP Officer Ross Lee says the YouTube video, online postings by Khalsa, and tips from the public helped lead investigators to Khalsa. A big shout out to CHP Officer Ross Lee for his professionalism in handling this incident.
I say this motorcyclist is a real genius and we thank him for hanging himself on YouTube!
The Motorcycling Majority….99% of all bikers are hard working motorcycle enthusiasts and don't behave like these misguided individuals on roadways open to the public:
We here in the law abiding biker community realize that it is incidents and viral videos like these that make all bikers/motorcyclists look bad. Pulling a wheelie down the freeway seems to be the new "I'm cool" thing to do for a very small portion of misguided motorcyclists.
To be fair and balanced here at Law Abiding Biker Media, I also came across this video that a rider of a tricked out Harley Davidson posted on Facebook. I must say that these are bad ass bikes and some skilled riders, but please keep it off the open streets. These guys are pulling the same stunts as the guys on sports bikes while going down a freeway open to the public. Seriously, I would pay money to come watch these stunts and check the bikes out at an event. It just has no place on roadways open to the general public.
This type of behavior is the image all Law Abiding Bikers, the 99% ers, are trying to fight, the typical "stereo type". I admit these guys are apparent skilled riders, but riding all over the roadway without regard to other motorists is just stupid and disrespectful. The motoring public doesn't need swarming bikes around them doing stunts. These riders have zero respect for anyone else but themselves.
Riders performing these stunts will often argue that this is safe because they are skilled. Anyone with a brain knows that accidents can happen and we have all watched videos of riders doing these exact stunts and crashing. That is life and accidents will happen, so why up the risk to other motorists around you?
Oh, was this an accident from what appeared to be a "skilled rider"?
Personally, I don't care if the riders hurt themselves. Then again, from a financial standpoint, serious injury and fatality collisions cost us all dearly in insurance rates.
I know these riders are just trying to have fun, but the consequences can be dire for other motorists. You see, if one of them goes down, it stops up the entire group, which stops freeway traffic, hopefully. The motorcycle also slides and a motorist may have to swerve, causing them to roll over, killing or injuring children they may be transporting. The scenarios can continue and common sense prevails here on all levels.
What if it were your significant other with your children on the road with these riders? What if one of them lost control and your family member had to swerve to avoid one of them? What if they rolled over and were killed? Would you have a different opinion on wether this should take place on roadways open to the public? Or is it better suited for a controlled environment? There is clearly no reasonable argument to this.
Fact: Wether on Harley Davidson's or sports bikes, these motorcycle riders are doing it on the freeway and on roads open to the public for attention they must need and to get good video footage they can later post to YouTube. Remember, just because you try to take a video off YouTube that you are not happy with anymore will ALWAYS be around. As so clearly demonstrated with this incident. Once you hit the "publish" button you better be ready.
Last, I must reiterate that I love riding motorcycles and everything about it. I love the talent that is out there and the tricked out bikes. I would literally pay to watch these guys perform their stunts in a controlled environment and check the bikes out at a rally. It just can't be argued that this is dangerous at some point for other motorists on the road. None of these riders is perfect and things happen all the time. The risk versus reward is just way to high.
Worst of all is this is all a step backwards in regards to public perception of the biker community. The motorcycling majority doesn't want another black eye because of stuff like this. Swarms of bikes all around them doing crazy things on a freeway certainly leaves a bad taste in their mouths.
Harley Davidson Giveaway:
New Logo (Designer Info):
Ride hard! Ride safe! Please riders, have fun, but keep these stunts off roadways that are open to the public.