Podcast: Play in new window | Download | Embed
Subscribe: Apple Podcasts | RSS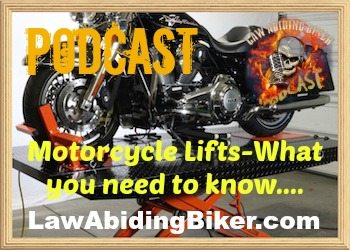 PODCAST-We have created a new resource here at Law Abiding Biker™ Podcast & Media. There is now a page that has everything to do with motorcycle lift tables and jacks. We are reviewing, filming, and testing these lifts and jacks for all the bikaholics out there! The market is saturated with these things and it can be very hard to sift through. Yes, there is a lot of junk out there and some are even unsafe!
In this podcast episode you will listen in as I actually talk with Ian Gilmore of Redline Engineering. I end up ordering the Titan 1000D motorcycle lift table and you get to hear the entire process! Ian has a ton of information about motorcycle lift tables and the industry in general.
The market is saturated with motorcycle lift tables, jacks, & companies. It can be overwhelming when you start shopping for a lift. The last thing we want is for a biker/motorcyclist to spend their hard-earned money on a motorcycle lift table or jack only to get ripped off or treated badly by a company that doesn't care about them. Customer service is super important to us here and we will not give our money to any company that does not have the absolute best of customer service. There are just too many choices for me to put up with that.
There are many things you need to be aware of when shopping for and purchasing a motorcycle lift table.  There can be shipping complications that can leave you high and dry if you don't have the necessary facts, information, and procedures. That is exactly what this phone call is all about with Ian. Listen in and we can all get educated together.
Resources: