Podcast: Play in new window | Download | Embed
Subscribe: Apple Podcasts | RSS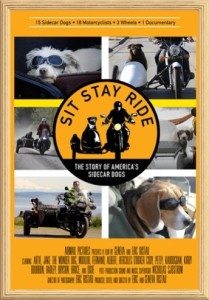 PODCAST-In this episode I have the pleasure of interviewing Eric Ristau from Missoula, Montana. Eric and his wife Geneva are independent filmmakers. Their most recent film is called Sit Stay Ride and is a special story of America's motorcycle sidecar dogs and was about a year in the making.
They started the film as a crowdfunding project on Kickstarter and it was quickly funded and went into production. It was clear many supported this sort of movie, which is a documentary film on motorcyclists and their dogs that ride in their motorcycle side cars. The movie is filmed in numerous states and riders from all walks of life are subjects of the documentary.
The movie really captures the essence of both the freedom of riding a motorcycle along with the close relationships between man and dog. So, the movie will capture not only the attention of bikers & motorcyclists, but also that of avid dog lovers. Or anyone who wants to see a well put together documentary and be inspired about the simpler things in life. The best part is that 25% of the proceeds of this film will be donated to animal rescue organizations!
The movie is available on DVD, Bluray, and it can also be purchased or rented to immediately stream and view.
Additionally, you can also bring the movie to the big screen by hosting a screening in your area by going to Tugg.com
Sit Stay Ride: The Story of America's Sidecar Dogs – Official Trailer from Ristau & Liimatta on Vimeo.