Podcast: Play in new window | Download | Embed
Subscribe: Apple Podcasts | RSS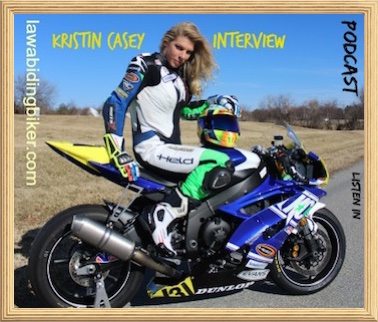 PODCAST-In this episode we talk in-depth with Kristin Casey, who is a female sports biker racer. Sports bike racing is dominated by males, but that doesn't stop Kristin and she is right in the thick of it. It seems nothing is going to stop her from taking her racing to the next level. Yep, even while competing against male racers. You won't find another podcast interview of Kristin Casey like this one, so you must listen in. We truly had a great time talking with her.
Kristin is extremely passionate about sports bike racing even after a crash in 2011 caused from mechanical failure in which she nearly had to have her right leg amputated. That put her out for over 3 years and she has been back at it in the last year.  Her father was diagnosed with stage 4 lung cancer in May 2013 with less than a year to live diagnosis and passed on in May 2014.  He was an avid Harley Davidson owner and rider and was a big part of Kristin's life. She speaks of the day she came home on a "sports bike", which he was not fond of. He used to go to the track with Kristin and was not immediately sold on her passions for sports bike racing, yet he still supported her. After her crash, recovery, and her father being diagnosed with cancer she knew she needed to get back into racing.
It wasn't too long ago that she was involved in a second large accident while racing, but her bike took the majority of damage this time and not her body so much. Here is a line taken from her bio on her website: www.kristincaseyracing.com/about
I have physically and mentally become stronger than ever and feel truly alive when on the race track. My mother now comes to races and helps out in the pits. We are planning for success with dad watching over us we plan to travel together and compete a full season of racing and many more to come.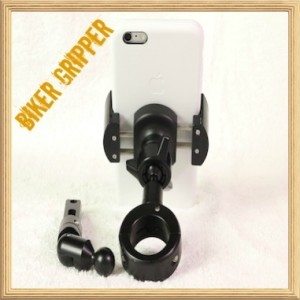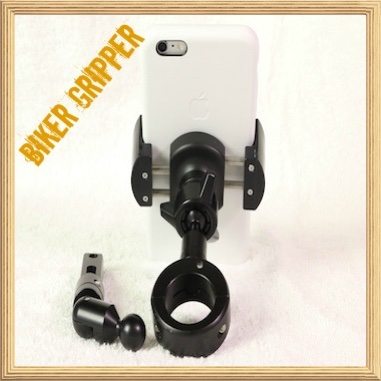 Our Custom Biker Gripper Cell Phone & GPS Mounts
Need a motorcycle cell phone or GPS mounting solutionBikaholics?

That's right, Law Abiding Biker Media put our logo on these mounts & we personally use them on our motorcycles!

The sexiest, lightest, and strongest mounts available period.
Good prices and fast shipping from our store?
Check out our COMPLETE REVIEW
Kristin says the sports bike racing scene is a very tight-knit community. Even competitors help each other out while at the track. They help each other with parts and working on each other's motorcycles. She was on the receiving end of this generosity after her most recent crash and her bike was back up and running because of the community in no time. Some helped with labor and some with parts.
I learned from Kristin that true desire and passion are the only things that will get you into the sports bike racing scene. Kristin works a full-time job and with the help of her mother they pretty much run all aspects of her racing endeavors. On the weekends it is off to the race track to keep moving forward and earning points to advance her racing to the next level. Sponsorships are scarce at the entry-level, but she has managed to obtain a few to help out with the gear she needs to race. There is nobody paying Kristin to race and most the money comes out of her own pockets. She and her mother pull their toy hauler/trailer home that they fixed up to race weekends.
Kristin talks about some of the tight deadlines and processes that are a part of racing sports bikes. She and her mother have a routine and understanding worked out, so they can make certain Kristin gets into the races she needs to. There is a whole bunch more behind the scenes of sports bike racing than meets the eyes and Kristin helps us understand.
Kristin has a website that you can visit at www.KristinCaseyRacing.com. You can also link up with her social media channels. Kristin has recently teamed up with a social media entity to get her name & brand out there more. Like all sports, promotion is a big part of sports bike racing and which sponsors you can land.
Kristin Casey Social Media & Website:
Other Items of Interest in This Episode:
New Videos Available:
New Patrons:

Rodney Martinez of Daly City, CA
Rusty Dean Roberts of Gallatin, TN
Rick Royer of Maineville, OH