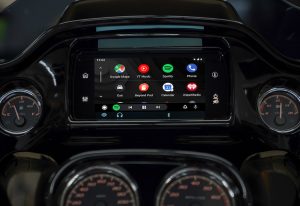 When the new GTS version of the Harley-Davidson Boom!™ Box Infotainment System was released on 2019 and newer touring models, many riders were frustrated as it only came with Apple Car Play abilities and did not account for all the Android users.
Well, the frustrations may be over as Harley-Davidson has been collaborating with Google. Harley-Davidson plans to make Android Auto available through a software update in the early summer of 2020. This will not replace Apple Car Play, but users will now have a choice between the two when using the Boom Box.
Just like Apple Car Play, you'll need to have a wired connection to the Boom Box via the USB connection in the jukebox compartment for Android Auto to fully function. With the wired connection, you'll get access to some of your Android apps and it basically mirrors your Android smartphone.
Android Auto for the Harley Boom Box GTS allows for a better experience so you can use your favorite media, communication and navigation apps, such as Google Maps. And you can give voice commands using Google Assistant if you have a wired or wireless Bluetooth headset and have the additional Harley Wireless Headset Interface Module (WHIM) installed. Currently, 36 countries have Android Auto services available.
We sell a ton of these tutorial videos and are praised by bikers worldwide. Learn everything you need to know to get the most out of the Harley Boom Box system and how to integrate and use Harley Ride Planner!
It's important to note that neither Apple Car Play nor Android Auto will be available via the software update for the older GT 6.5 version of the Harley Boom Box Infotainment System that the 2014-2018 touring models were equipped with. However, Harley now allows for the older Boom Box 6.5 touchscreen and 4.3 non-touchscreen systems to be retrofitted to the new 2019 Boom Box GTS but at a cost of course.

It will be interesting to see how Android Auto for the Harley Boom Box GTS will work overall. The Boom Box GTS system and the older system have been plagued with bugs and issues, many of which have never been fully resolved. Pair that with the well-known issues with Android devices having malware and viruses, users could have ongoing issues. I certainly hope that is not the case.
The Harley-Davidson Boom! Box Infotainment System is not the most intuitive user interface and has frustrated users over the years when trying to figure out how to operate and access all its menus and functions. Since 2014, we here at Law Abiding Biker Media have been helping bikers worldwide learn and use all models of the Harley Boom Box system. We flatten the learning curve and show you the easiest way to use the system and how to get the most out of it. It's actually a powerful system if you know all the tricks and hidden menus.
Join the Free Email Club!
If you appreciate this free information make sure to join the thousands of law abiding bikers that have already joined the free Email Club! You will be notified of new useful motorcycle content and techniques as we put them out. Join the Community now!