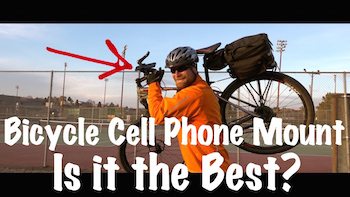 The Biker Gripper cell phone motorcycle mount is the best on the market without argument. It is the sexiest, sleekest, and strongest cell phone, GPS, garage door controller, or toll transponder mount available. Bikers around the world trust in this mount to secure their devices to their motorcycles.
Of course, the Biker Gripper universal handlebar mounting system allows the Biker Gripper to be mounted on any round bar ranging from 7/8″ to 1 1/4″ in diameter. The kit comes with an allen wrench along with 3 inner diameter reducers to fit your specific bars. The center medallion/emblem can be easily removed if it's not your particualr sytle.
The Biker Gripper is the most secure device ever developed to mount your cell phone or other devices to your mountain bike or street bicycle.
More information and videos are there
So, the Biker Gripper cell phone mount can fit street bicycles, mountain bikes, snowmobiles, four wheelers and street and dirt motorcycles of all kinds.
In this fun video demonstration we mount the Biker Gripper on a mountain bike and then take it out for some real world tests. Oscar is an avid motorcycle rider, but loves riding his mountain bike too.  Oscar had his iPhone 6 Plus in the Biker Gripper and the mount never failed him. Even after taking it off some jumps and doing some other ridiculous things his cell phone never came out!
Check the video out and you will see why the Biker Gripper Cell Phone Motorcycle and Bicycle mount is ranked #1.
More information and videos are there
Other Related Biker Gripper Content:
Join the Free Email Club!
If you appreciate this free information make sure to join the thousands of law abiding bikers that have already joined the free Email Club! You will be notified of new useful motorcycle content and techniques as we put them out. Join the Community now!