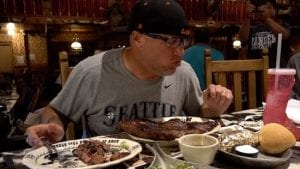 Check out an excerpt from my 12 State Mid-West Biker Documentary Film! We decided to visit the Big Texan Steak Ranch in Amarillo, Texas. Scooter tried the steak eating challenge where he tried eating a shrimp cocktail, salad, baked potato, roll, and a 72 oz steak in less than an hour! This is one of many stories within this documentary film. A film by bikers for bikers.
I want to make more documentary films like this in the future to entertain bikers and I must say that the feedback I've gotten so far has been awesome! Please share this email and the film with all your biker friends! Help us promote it on your social media channels. We would so much appreciate it. 🤘
Support me so I can keep making real-life biker films by purchasing this documentary. I know it will move you, touch you, and inspire you. My heart & soul went into creating this film. Making large films like this does not come without a high cost……….the film is priced at only $10.
**You get immediate access to the film upon purchase and it streams just like a YouTube video from any device with a good internet connection!!
Biker Documentary Films
Join the Free Email Club!
If you appreciate this free information make sure to join the thousands of law abiding bikers that have already joined the free Email Club! You will be notified of new useful motorcycle content and techniques as we put them out. Join the Community now!