Video Below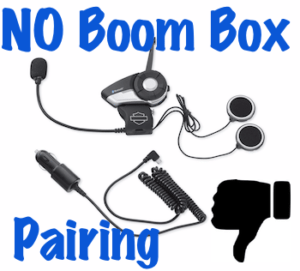 Let me be VERY clear……..No, there is absolutely no wireless Bluetooth headset that will pair "directly" with the Harley-Davidson Boom!™ Box Infotainment System. It doesn't matter if you have a 2014 or a newer 2017 Harley with the Boom Box as it is the same exact version of the Infotainment system and no changes in hardware have been made by Harman Kardon, maker of the Boom! Box.
Harley-Davidson came out with the Boom! Audio 20S Bluetooth Helmet Headset and no it does not pair with the Boom! Box Infotainment System. Harley-Davidson took the popular Sena 20s Bluetooth Headset, stamped their famous HD logo on it, and jacked the price up. There is nothing extra special about this headset.
The "Boom! Audio" line of Harley products really has nothing to do directly with the "Boom! Box Infotainment System". This new wireless Bluetooth headset is a prime example of this. It is fair to say that Harley owners draw a fair conclusion when Harley puts out a "Boom! Audio" product and that it would seemingly integrate with the "Boom! Box". That clearly isn't the case and Harley has confused a ton of their customers.
Let me, a biker, show you all the tips, tricks, and hidden menus, so you can get the most out of your system. Less time stressing, more time riding!
If you want to use a wireless motorcycle Bluetooth headset with your Harley Boom!™ Box Infotainment System, we do have a solution and workaround.
Wireless Harley Headset Connectivity (Full Boom! Box Integration)
If you want a full wireless Bluetooth headset solution that fully integrates with the Harley Boom! Box then the only solution is? CLICK HERE TO FIND OUT HOW
Wired Harley Headset Connectivity via 7-pin DIN Communications Port (Full Boom! Box Integration)
Of course, the Boom! Box has always worked with a wired headset solution and you do get full Boom! Box integration that way. And it is a quite a bit cheaper than the wireless alternative (above). CLICK HERE TO FIND THE BEST AND ONLY WIRED HARLEY HEADSET WE RECOMMEND.


No Headset Profile (HSP) in the Boom! Box
The Boom! Box was never designed to have a wireless Bluetooth headset pair directly with it. It was not made with an HSP, headset profile. It was made with an HFP, hands-free profile, which is why your smartphone will pair with the Boom! Box directly, but not a headset.
In Harley's defense to having no headset profile, Honda did the same thing with their Goldwing line. Goldwing owners are having the same sort of issues and having to do workarounds. The Goldwing has a 5-pin DIN communications port instead of a 7-pin like the Harley.
Join the Free Email Club!
If you appreciate this free information make sure to join the thousands of law abiding bikers that have already joined the free Email Club! You will be notified of new useful motorcycle content and techniques as we put them out. Join the Community now!