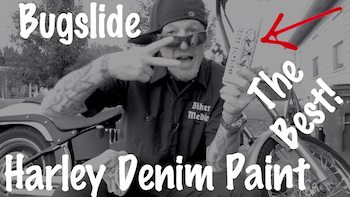 Video-We get asked all the time here at Law Abiding Biker™ Podcast & Media…….what is the best & safest waterless motorcycle cleaner to use on Harley-Davidson denim paint or any motorcycle paint for that matter?
The answer is definitely Bugslide. It is completely safe and highly recommended by us for use on Harley denim paint. I actually tested Bugslide for years on a 2011 Harley Street Glide I owned with black denim paint. I also tested it for a year using Bugslide on a 2007 Harley Night Train with pewter denim paint. Buglside is good not only for denim paint, but all motorcycle paints.
You'll want to be careful about using waxes and certain cleaners on Harley denim paint as they will shine the dull paint look over time. Bugslide will not do that and cleans denim paint like a dream.  Bugslide will remove the bugs, grease, and dirt with ease. BugSlide leaves a protective, microscopic finish that continuously repels dust, dirt, water and fingerprints.  Buglside is tested by bikers for bikers in a real world environment.
Related Bugslide Videos/Information:
Harley-Davidson makes what they call a denim paint cleaner. Of course, they stamp their logo on it and mark the price up. I tested Harley's denim paint cleaner and Bugslide blew it away in every way.
Remember, Harley's denim paint cleaner is really only for denim paint. Bugslide works on denim paint and all paints. Bugslide is free of abrasives and is safe on all non-porous surfaces including; paint, chrome, glass, fiberglass, acrylic, aluminum, plexiglas, plastic, lexan, vinyl and leather. I threw the single purpose Harley denim paint cleaner in the trash.
Don't worry, we also have you covered for a wet wash motorcycle cleaner! Yes, for both denim paint and all motorcycle paints. For wet washes, my #1 go-to cleaner is Bike Brite Motorcycle Spray Wash Cleaner & Degreaser.
It's simple………for wet washing & restoration I use Bike Brite Products. For in between maintenance, shining, and cleaning I use Bugslide!
The best thing about Bugslide is that I never need to wax my Harley again! The release agent in BugSlide contains a UV filter for added protection.
Note: You may find Bugslide on Amazon or eBay with listings offering "free shipping". Beware, that you may save a simple buck or two, but we know for a fact you'll be waiting 10-15 days for it to arrive on your doorstep. Slow snail-like shipping is the only way that can be offered. We'll get it to you in about 3-4 days from our store!