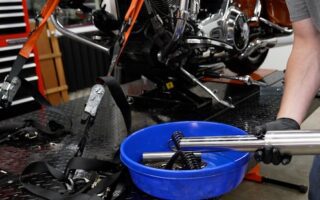 We show you how to change the front fork oil on a 2014 & newer Harley-Davidson motorcycle in this completely free tutorial video. For the most part, it doesn't matter what year or make of Harley you have as the procedures for this are all very similar. (see video below)

Changing the front fork oil on your Harley should be a regular maintenance item and should be done at certain intervals. See your Harley owner's manual for recommendations on when this should be done.
This short tutorial video actually comes out of our very detailed Ohlin's FKS 226 Harley NIX 22 Front Cartridge Kit install on a Harley video! Check that video out if you're at all interested in changing your Harley front suspension for a much improved ride!
There is absolutely no reason to pay a dealership or shop mechanic to change your Harley front fork oil as you can do this right in your very own garage with basic tools. We show you everything you need to know in this tutorial video.

RESOURCES MENTIONED IN THIS VIDEO:
Videos of interest:
HELP SUPPORT US! JOIN THE BIKER REVOLUTION! #BikerRevolution #LawAbidingBiker #Bikaholics
🛒SHOP IN THE LAW ABIDING BIKER STORE 🛒
😎BECOME A MEMBER AND GET BENEFITS 😎
📹GET PREMIUM MOTORCYCLE TUTORIAL VIDEOS 📹
🎬WATCH OUR MOTORCYCLE DOCUMENTARY FILMS HERE🎬
📱SHOP OUR AMAZON RECOMMENDED PRODUCTS 📱
🎙CHECK OUT THE WEEKLY PODCAST 🎙
Join the Free Email Club!
If you appreciate this free information make sure to join the thousands of law abiding bikers that have already joined the free Email Club! You will be notified of new useful motorcycle content and techniques as we put them out. Join the Community now!