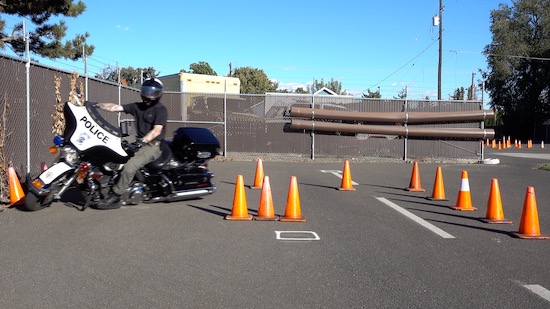 This is a brand new cone pattern drill I designed for an upcoming Police Motorcycle Officer Training Course. I have designed it from scratch and I am calling it "The Chaser".
I spent quite a bit of time testing and measuring things out. I tested it all out on my Police Harley-Davidson Electra Glide. At the end of the video, I walk you through the course and give you the exact measurements and how to set it up.
This is an advanced police motorcycle cone pattern and you should be a very experienced and skilled rider before trying this at the prescribed measurements. If you're a beginner or intermediate rider, you can widen and lengthen all the cone settings.
The goal of this pattern is to get riders comfortable with emergency threshold braking, obstacle avoidance and quick and aggressive U-turns. This is a maneuver Police Motorcycle Officers perform daily while turning around to catch violators or to respond to collisions, just to name a few.
Once riders discover the proper turn points and get into a rhythm, it will feel awesome and will look great. If a rider does not hit the proper points and is forcing the bike it will be very difficult. It's all about full bar locks, head and eye placement, quick transitions, and quickly coming in and out of the clutch gray area in this drill.
WATCH MY POLICE BASIC MOTORCYCLE INSTRUCTOR SCHOOL VIDEO SERIES:
HELP SUPPORT US! JOIN THE BIKER REVOLUTION! #BikerRevolution #LawAbidingBiker
🛒SHOP IN THE LAW ABIDING BIKER STORE 🛒
😎BECOME A MEMBER AND GET BENEFITS 😎
📹GET PREMIUM MOTORCYCLE TUTORIAL VIDEOS 📹
🎙CHECK OUT THE WEEKLY PODCAST 🎙
Join the Free Email Club!
If you appreciate this free information make sure to join the thousands of law abiding bikers that have already joined the free Email Club! You will be notified of new useful motorcycle content and techniques as we put them out. Join the Community now!