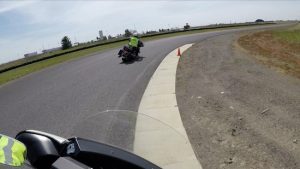 I spent 3 weeks in Spokane, Wa at Police Motorcycle Instructor School where I assisted with instructing a Basic Police Motorcycle School. This is part 4 of 4 of a series I did. Check out the entire series using the links below!
Here in part 4, we instructors took the new Police Motorcycle Officer Students to the Spokane County Raceway in Spokane, Wa to teach them the skills they'll need to know to ride and corner at higher speeds. Prior to being able to go to the race track, each new student had to qualify and demonstrate their abilities on the slower speed technical police motorcycle course. They had been learning and practicing hard up to test day earlier in the week. Yes, some students don't make it past certain riding tests and have to leave the school. Being a Police Motorcycle Officer is not for everyone and the school is extremely demanding.
I spoke to several students prior to going to the race track and admittedly they were a bit nervous. After all, they had never ridden a motorcycle at over 100 mph and done aggressive cornering. It is good to have some nerves and caution, as this will keep you safe.
The students started out slow of course and followed instructors to learn the proper race track lines. Then they were able to try it themselves and modify the lines a bit. By the end of the day, there was significant improvement and confidence and this is the exact purpose of race track day.
In this video, I was riding my 2013 Harley-Davidson Police Electra Glide with a 103 ci motor. Often you will see me following a student who is riding a 2017 Harley-Davidson Police Electra Glide with the new 107 ci Milwaukee-Eight motor.
Whatever riding ability you are at, make certain you are always training and pushing yourself to the next level of riding. It could save your life. Do it in a controlled environment and most of all have fun!
Police Basic Motorcycle Instructor School Vlog Series:
SUPPORT US! JOIN THE BIKER REVOLUTION!
🛒SHOP IN THE LAW ABIDING BIKER STORE 🛒https://shop.lawabidingbiker.com
😎BECOME A MEMBER AND GET BENEFITS 😎https://www.patreon.com/scrappy
📹GET PREMIUM MOTORCYCLE TUTORIAL VIDEOS 📹https://www.lawabidingbiker.com/buyvideos
💰LEAVE A FLAT DONATION 💰https://www.lawabidingbiker.com/donate
🎙CHECK OUT THE WEEKLY PODCAST 🎙https://www.lawabidingbiker.com/app
Join the Free Email Club!
If you appreciate this free information make sure to join the thousands of law abiding bikers that have already joined the free Email Club! You will be notified of new useful motorcycle content and techniques as we put them out. Join the Community now!