Podcast: Play in new window | Download | Embed
Subscribe: Apple Podcasts | RSS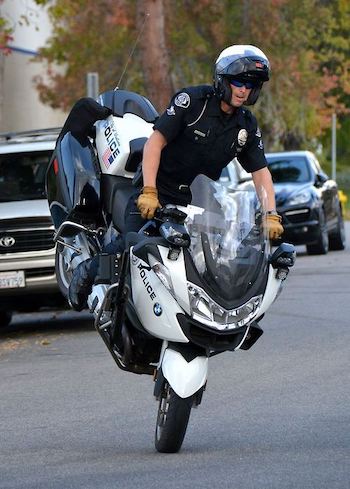 In this episode, we talk about the proper procedures for emergency braking on your motorcycle. We go over both ABS and non-ABS systems in addition to linked braking systems. I had Oscar on a mic and we are both full-time Police Motorcycle Officers and train together. Additionally, I'm a Police Motorcycle Instructor.  We go over some recent police motorcycle training we conducted on emergency motorcycle braking. Oscar rides a 2018 BMW Police R1200RT & I ride a 2018 Harley-Davidson Electra Glide and they act differently when emergency braking, but the techniques are the same.

Proper braking of your motorcycle in an emergency situation is likely the most important thing you can practice that can save your life out on the roads. The faster you can dump as much speed as you can to avoid completely or prior to an impact can't be stressed enough. The unfortunate thing is that so many riders have never gone out to a parking lot and practiced proper emergency braking techniques. Proper motorcycle emergency braking needs to be practiced routinely to stay sharp.
We had several motorcycle brake related voicemails, so we really wanted to cover this topic.  You can leave us a voicemail anytime right from your smartphone or computer and it may make the show!
To test your motorcycle ABS system, simply find a safe place with a good clean surface and get going a little. Then slam on the rear brake. You'll hear and feel the ABS system engage on a Harley. It may be a little more subtle on a BMW or other metric bike. All riders should know what their ABS system feels like regardless of motorcycle make, so you are prepared and don't freak out if it happens in a real situation.
Note: We also discussed Oscar's recent used oil analysis (UOA) he sent to Blackstone LAB. He uses Amsoil and is going on 7,120 miles on an engine oil change on his 2013 Harley Ultra Limited and everything is looking good. He's going to keep going further and do another test later at around 10,000 miles. I've provided that UOA for your review if interested.
Emergency Motorcycle Braking Procedures:
We cover proper emergency threshold motorcycle braking in this episode such as applying 70% front brake to 30% rear brake. You should really get comfortable with your front brake as that is going to slow you quickly. Just using your rear brake is a very bad idea and alone won't stop you very quickly at all. Relying on it too much on the rear brake is a sign of a new or inexperienced rider.

Emergency Motorcycle Braking Drill:
We also go over a simple and basic motorcycle emergency braking drill that you can practice. It's what we constantly practice as Police Motorcycle Officers.
Find a safe parking lot with no gravel or major surface issues and set up a marked entry gate. You can use cones or any other marker. Then measure out 62′ from the entry gate and put other markers at the end gate. You'll need a fair distance prior to the entry gate so you can get to the proper speeds.
Start at 20 mph or below when going through the entry gate markers to start and get comfortable. Do not cover either the front or rear brake with your hand or foot. Make sure you are at a steady 20mph at the entry gate to start. Sit up, straighten and lock your arms, so you don't get pushed forward in the saddle when braking. After crossing the entry gate, hit the front brake 70% and the rear 30% trying to stay out of the ABS brakes and right on the edge of engaging them. If you don't have ABS then apply the same concept, trying to not lock up the rear or front tire.
Shift down to first gear while emergency motorcycle braking. While braking, look in your mirrors as you would need to do on the actual roadway, so you can see what's coming up behind you and/or going to rear end you, so you can try to avoid it. When you brake fast it causes others behind you to react. Come to a stop before the second gate, putting only your left foot down and your right foot still on the rear brake. Still looking in your mirrors, start quickly and turn left or right as if to move out of the way of that car rushing up on your rear. It's called brake and escape.
After you get comfortable, work your way up to a max speed of 40 mph. It's called the 40mph emergency braking drill and should be practiced often to stay sharp. You'll be amazed at how you will get better and better at this as you practice. It will give you much confidence. Have a partner watching that you are doing the drill correctly by not covering your brakes prior to the entry gate and that you are looking in your mirrors, shifting down, etc.
If you ride two abreast with partners out on the road, then you should also practice the same drill while riding in this configuration. Of course, when you get stopped, one rider will turn out to the right and the other to the left. Riding with a partner side by side brings another dynamic to emergency braking and holding your wheel track is crucial. Emergency pair braking is for very advanced riders only.
Listen in to this episode to get even more information and details.
Now you have no excuse not to go practice. It could save your life!
New Free Video Mentioned:
Sponsor-Ciro 3D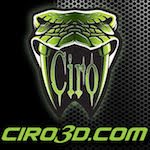 Innovative products for Harley-Davidson & Goldwing
Affordable chrome, lighting, and comfort products
Ciro 3D has a passion for design and innovation
Sponsor-RickRak

The Ultimate Motorcycle Luggage Rack Solution
Forget those messy straps and bungee cords
Go strapless with a RickRak quick attach luggage system & quality bag
New Patrons:
Chris Reed of Sulphur, OK

Rick Belieu of Clarkston, WA

Michael Egres of Woodstock, GA

Richard Trickel of North Ridgeville, OH

Oscar Acevedo of Orlando, Florida

Mark Lampert of Batavia, Illinois

Scott Blackhall of El Centro, California

Stephen Thompson (location unknown)

Cody Oldfather of Fairbury, IL


Join the Free Email Club!
If you appreciate this free information make sure to join the thousands of law abiding bikers that have already joined the free Email Club! You will be notified of new useful motorcycle content and techniques as we put them out. Join the Community now!