Podcast: Play in new window | Download | Embed
Subscribe: Apple Podcasts | RSS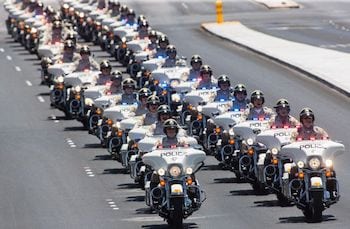 We discuss the recent Police Motorcycle Escort School Oscar and I recently attended in Spokane, Wa. We try and go to this school each year to stay up to date with practices and procedures. One of the most dangerous things that Police Motor Officers do are escorts. By training often we can minimize the risks associated.

Many Police Motor Agencies in Washington State train together and use the same specific hand signals, practices, and protocols. This is important as many times local agencies will call outside agencies to help with larger scale escorts, like a dignitary escort as an example. It's very important that agencies follow the same rules and practices or risks go way up.
It's a good idea for Police Motor Officers to train in an unfamiliar area because it is likely they will be called to do an escort in a city that is not familiar. Pre-rides and safety briefs are done prior to an escort, but unfamiliar roads make it a bit more dangerous.
Oscar attended the North American Motor Officer Association training in and competition recently in Hillsboro, Oregon. This event is awesome and lasts about 3 days. Officers throughout North America get together and train hard together for several days before competing. I went last year and really enjoyed it. I was not able to attend this year as I was recently at Police Motor Instructor School in Spokane, Wa for about 2 1/2 weeks. Then I was off to Police Motor Escort School, so it was too much to pack in.

Oscar, Michael, and I discuss these events and schools and give you an inside look. Oscar discusses his brand new 2018 BMW Police R1200RT and I discuss my brand new 2018 Harley-Davidson Electra Glide with Milwaukee-Eight motor. We'll give you our opinions of course and tell you whether the upgrade to a Harley Milwaukee-Eight motor is worth it or not.
Remember that no matter what your current motorcycle riding abilities are, always train and push yourself to the next level. Being a good rider and prepared can save your life.
Check out a 4 part video series I did about Police Motorcycle Instructor School.
New Free Videos Mentioned:
Police Basic Motorcycle Instructor School Vlog Series:
Sponsor-Ciro 3D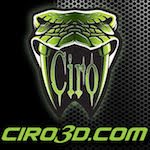 Innovative products for Harley-Davidson
Affordable chrome, lighting, and comfort products
Ciro 3D has a passion for design and innovation
Sponsor-RickRak

The Ultimate Motorcycle Luggage Rack Solution
Forget those messy straps and bungee cords
Go strapless with a RickRak quick attach luggage system & quality bag
New Patrons:
Ben Spardo of Centerville, Maine

Steven Whitman of Danville, New Hampshire

Christopher Bohmer of St Peter, Minnesota

Tanner Wilson of Fort Hood, Texas

Joseph Baker Jr. of location unknown

Chris Ralls of San Antonia, Texas

Florian Anthony Placzek of Gretna, Nebraska

Darrence Lovejoy of Charlotte, NC

Scotty Grist of Dana Point, CA


Stuart Koensgen of Manitoba, Canada

Garry Euler of SEBRING, FL

John Phillips of Yakima, Wa

Chuck Darby of Lubbock, Texas

Puddy Espenship of Location Unknown

Rick Bennett of Dallas, Texas