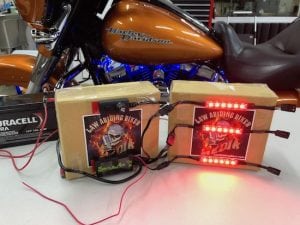 Check out the new Ciro 3D Shock & Awe 2.0 LED lights for Harley. This is no standard LED kit for Harley and offers things unseen before! This is an upgrade to the original Shock & Awe LED lighting kit for Harley that Ciro 3D released years ago. The original Shock & Awe kit was and is still awesome!
See my full introduction video to the new and improved Ciro 3D Shock & Awe 2.0 LED lights for Harley at the bottom of this article!
SUPPORT US AND GET THE NEW CIRO 3D SHOCK & AWE 2.0 LED'S IN OUR STORE!!
In the newest version 2.0 Shock & Awe Kit you get an upgraded Bluetooth controller box (brains) that allows more functionality to include a brake lead, voltage monitor, and 3rd channel.
And with the rollout of the updated Ciro 3D's Shock & Awe smartphone app (IOS or Android), you'll get things such as race mode, music mode, picture color mode, low voltage mode and microphone mode. And it still features the 21 different functions such as colors, flash, breathe/fade, paint mode and more of the original Shock & Awe kit that we're all used to!!
Note: If you have the older original Shock & Awe kit installed, all the original LED functions will work with the new smartphone app update. However, you'll need to upgrade to the new Shock & Awe 2.0 Bluetooth controller (brain) box to get the awesome new music mode, microphone mode, brake lead, voltage monitoring, and the 3rd channel.
With the new Ciro 3D Shock & Awe 2.0 LED lights for Harley, you can literally play music on your smartphone within the Shock & Awe app and the LED lights will flash to the tune! You can further customize a threshold so when the song gets to a certain threshold the LED's change to a color of your choice! You can do the same with the microphone function if say you're at a concert or sitting next to a friend that is playing music on his/her Harley. You can take a picture of a color with your smartphone camera and your LED's will match it! In the race mode you can check your quarter mile speeds just like a drag race all while the app and LED's are turning colors to let you know when to start and stop.
Adjust the settings within the smartphone app and you can have the LED's automatically shut down when your bike gets to a certain voltage. You can also set the LED to turn red everytime you brake regardless if you are running the LED's. And there is a third channel for adding things such as Ciro 3D front fork mounted LED illuminators or Ciro 3D under saddlebag extension LED's. With the 2nd and 3rd channel, you can control each of these separately and have them all different modes and colors! Your creativity is the limit with the new Shock & Awe 2.0.
The Ciro 3D Shock & Awe 2.0 LED lights for Harley has ultra super bright LED's that are easily affixed to a motorcycle with automotive grade 3M adhesive. The rotary encoder (brain box) can mount anywhere to control your LED colors and functions w/o the smartphone app, but only basic LED functions can be adjusted.
Join the Free Email Club!
If you appreciate this free information make sure to join the thousands of law abiding bikers that have already joined the free Email Club! You will be notified of new useful motorcycle content and techniques as we put them out. Join the Community now!