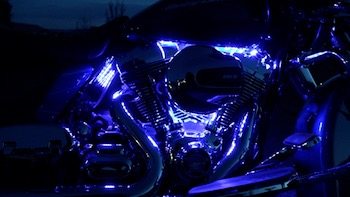 Video-We show you exactly how to install the Ciro 3D Shock & Awe LED Engine lighting kit on your Harley-Davidson motorcycle. To complete the entire look you should add Fork Mounted Illuminators and a Saddlebag Extension kit. You can add these items at the time of purchase in the Law Abiding Biker Store! The Shock & Awe LED lighting kit can be used on any motorcycle with a 12-volt system. It doesn't matter the make or year of the motorcycle as the kit is very universal. We guarantee you can install these LED lights with the help of our detailed tutorial video.
The Ciro 3D Fork Mounted Illuminators will work on 2000 and newer FL Harley-Davidson touring models. This is due to the fact that they are shaped to specifically bolt onto those years/models.
Note: The Fork Mounted Illuminators are an add-on and not required to get up & running with the Shock & Awe kit.
The Ciro 3D LED lighting kits come with everything you need for the install. There are the LED light strips, wire extensions, splitters, control/power/Bluetooth box, control knob, 3M double sided sticky tape, and dialectic grease. There are additional bolts, washers, and nuts for the Fork Mounted Illuminators.


Your first impression when opening up the box is that the product is "quality". Everything is packaged well. The LED light strips, wires, extensions, and splitters are thick. Other motorcycle LED light kits out there on the market can be very cheap and thin, thus they won't last. The light strips are sealed very well, so moisture will never be a problem.
My favorite thing about the Ciro 3D Shock & Awe kit is that you can add to it later if you like. Every LED strip you put on your bike has another plug on the end to continue on with another LED strip. The main Bluetooth power block has two channels coming out of it. We hooked channel 1 to run the left and right side of the motorcycle and channel 2 to run our front Fork Mounted Illuminators. With the awesome Ciro 3D Shock & Awe intuitive smartphone app, we can have our front wheel LED's a different color/pattern than the main bike LED's.
There is also a control knob that you can mount in a convenient location for controlling different colors and modes of lights. However, the smartphone app allows even more control and makes the LED's programmable.
Join the Free Email Club!
If you appreciate this free information make sure to join the thousands of law abiding bikers that have already joined the free Email Club! You will be notified of new useful motorcycle content and techniques as we put them out. Join the Community now!
Ciro 3D Shock & Awe LED Lights
Summary
The Ciro 3D Shock & Awe LED lights for motorcycles are of the best quality. The wires and LED light strips are very thick and won't break over time. The connectors are solid. The LED light strips are sealed very nicely, so moisture won't become a problem. The kit comes with everything you need to install them. With our free tutorial video, you'll definitely be able to install these LED lights on your motorcycle.
I love the many different modes, colors, and patterns that can be controlled with the included control knob. The additional intuitive smartphone app makes it super easy to set up an array of different colors/patterns/modes. I love that the Shock & Awe Bluetooth power box has two channels coming out. This way you can have different colored lights in different zones on your bike. With the add-on Fork Mounted Illuminators, we were able to have the front wheel a different color/pattern than the main body of the Harley.
I really like everything about these LED's and you won't go wrong if you buy them. So, go pimp your bike already!