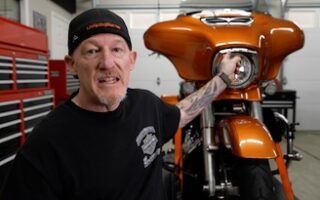 In this completely free tutorial video, we show how to properly install a Ciro Fang LED Headlight Bezel on a Harley-Davidson 2014 to present Street Glide with batwing fairing. We already have a video on how to install a Ciro Fang LED Headlight Bezel on a Harley touring with a shark nose fairing.
If you appreciate all the free content we put out, please consider supporting us by purchasing Ciro products in the Law Abiding Biker Store. Thanks in advance.
The Ciro Fang LED Headlight Bezel replaces the large empty gap around your headlight on your batwing fairing model with bright white LED running lights and amber turn signals set in a very clean housing. The bezel simply fills that gap and is plug-and-play.
These Ciro 3D LED Fang LED Headlight Bezel has standard white running lights when riding down the road and they flash amber when you activate your signals. This makes you much more visible to all the distracted motorists out there, lessening your chance of being involved in an accident.
The LED Headlight Bezel comes in black or chrome. There is also a model with the white lights only and no amber turn signals.
This is another high-quality product by Ciro and it is plug and play for a super clean installation. We'll show you what you need to know for installation in this video.
Join the Free Email Club!
If you appreciate this free information make sure to join the thousands of law abiding bikers that have already joined the free Email Club! You will be notified of new useful motorcycle content and techniques as we put them out. Join the Community now!