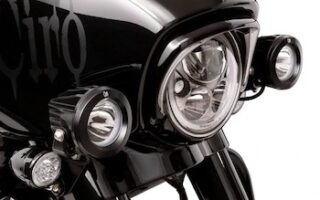 The TAC-10™ Light Cannons Street Glide/Electra Glide kit includes engineered brackets to allow easy bolt-on installation with adjustability that allows lights to angle up/down and side to side on '14-newer Street Glides and '19-newer Electra Glide Standards. The brackets for the Street Glide/Electra Glide also have a tie town loop!
The TAC-10™ Light Cannons for Road Glide or 1 1/4″ Round Engine Guard kit includes 1 1/4″ bar mounts for easy installation with extended wiring to place the TAC-10 Lights anywhere on your engine guard!
The TAC-10™ Light Cannons with Vision X Lighting technology feature 10-watt high-intensity LEDs that easily connect to your high beam wire (lights are on with high beam) or wire directly to keyed power (lights are on when in the ignition or accessory switch position).
Optional switch – not required
A third power option is to install the available Evil Iron Customs Single Switch which allows you to turn off the TAC-10™ Light Cannons when in the ignition and accessory switch position (keyed power). This would save battery power when in the accessory switch position.
Note: If you appreciate all the free content we put out and want to support us in our mission to help, educate, entertain, and inspire as many bikers as we can worldwide, please consider purchasing from the Law Abiding Biker Store!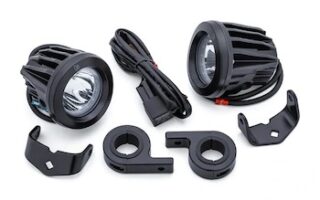 Fits '14-up touring models
Fitment for Street Glide/Electra Glide Fairing – Full Kit
Street Glide FLHX
Street Glide Special FLHXS
Street Glide ST FLHXST
'19-up Electra Glide Standard FLHT
Fitment for Road Glide – 1 1/4″ Bar Mount – Full Kit
Road Glide FLTRX
Road Glide Special FLTRXS
Join the Free Email Club!
If you appreciate this free information make sure to join the thousands of law abiding bikers that have already joined the free Email Club! You will be notified of new useful motorcycle content and techniques as we put them out. Join the Community now!