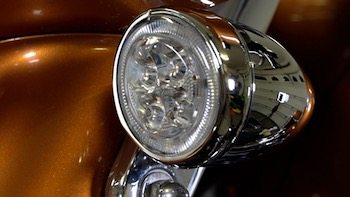 Video-In this video we show you how to install Ciro 3D Fang LED Signal Light Inserts on a Harley-Davidson motorcycle. These are really cool and quick to install. They come in black or chrome. You'll get a much brighter look than those stock bulbs. These Ciro 3D Fang LED's install easily and turn in just like your bulb does. They really are "plug and play". I love the look of the Fangs as they protrude out at the top and narrow at the bottom.
Stock halogen bulb Harley signals and brake lights are boring and dull. These Ciro 3D Fang LED signals and brake lights are a ton brighter. Motorcycle riders want to be seen better any chance we get and these LED signals definitely help.
These Fangs provide additional white light to the front. When you turn the signals on they turn to amber. On the rear, they are white until you turn the ignition on and they turn to red. Hit your rear signals and get the red signal light. You get additional bright red light when you hit the brakes.
I love the extra white light up front next to my awesome Ciro 3D Vision X LED Headlight! It makes for a great combination of bright light at the front of my Harley Street Glide Special.
Note: After install, hit your hazard lights for a bit to sync your dash panel signal light indicator, so it flashes at the same rate.
VIDEO OF INTEREST:
If you appreciate this free video, please consider purchasing any Ciro 3D LED lights right on our Official Store.