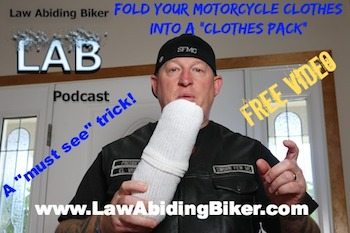 Another Free Video Made By Bikers For Bikers!
VIDEO & BLOG-Have you ever wondered how to properly fold/roll your clothes in a compact way before taking that next motorcycle trip? Do you want to save room in your saddle bags, trunk, or T-bag? Well, in this video I answer all those questions. This is an absolute must see video for all motorcyclists/bikers and is completely free from your friends here at Law Abiding Biker Podcast & Media! I just went on a seven day motorcycle trip and would have loved to know this trick!

I learned this technique and it had nothing to do with bikers. In fact, it was some crummy video on some social media site with a mother packing her son's swim bag. A light bulb (not often for me) went off and I just knew that I needed to get this out to bikers/motorcyclists. I wanted to share it with the awesome law abiding biker community, who has been so supportive of this platform.
As bikers/motorcylists we all know how precious room is when packing clothes for a long motorcycle trip. So, any technique we can learn that can help us get organized and save room is a must!
In this video I show you how to fold a T-shirt, underwear, & socks into what I now call the "Law Abiding Biker Clothes Pack". You can make one of these compact bundles for each day of your trip. Or maybe you wear the same underwear the entire motorcycle trip. Who am I to judge? So, you wake in the morning, grab your next "clothes pack", and BAM-you have fresh underwear, socks, and T-shirt! And you saved a ton of room in your motorcycle bags.
Additionally, after you wear the clothes in each "clothes pack" and they are dirty, you can fold/roll them back up into the "clothes pack" and put them in a different place, thus still saving room.
Also, check out another completely free tutorial video from Law Abiding Biker Podcast & Media on how to fold/roll your chaps into a compact and easy to store "chap pack"!
Check out all the FREE and FOR PURCHASE quality videos here at Law Abiding Biker Podcast& Media!
Free Email Club:
If you appreciate free information and techniques like this make sure to join the thousands of law abiding bikers that have already joined the free Law Abiding Biker Podcast & Media Email Club!! You will be notified of new useful motorcycle content and techniques as I put them out. Join the Community now!

Keep the rubber side down and the shiny side up!