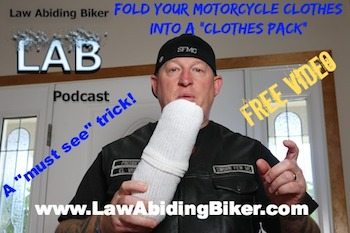 Another Free Video Made By Bikers For Bikers!
VIDEO & BLOG-Have you ever wondered how to properly fold/roll your clothes in a compact way before taking that next motorcycle trip? Do you want to save room in your saddle bags, trunk, or T-bag? Well, in this video I answer all those questions. This is an absolute must see video for all motorcyclists/bikers and is completely free from your friends here at Law Abiding Biker Podcast & Media! I just went on a seven day motorcycle trip and would have loved to know this trick!

I learned this technique and it had nothing to do with bikers. In fact, it was some crummy video on some social media site with a mother packing her son's swim bag. A light bulb (not often for me) went off and I just knew that I needed to get this out to bikers/motorcyclists. I wanted to share it with the awesome law abiding biker community, who has been so supportive of this platform.
As bikers/motorcylists we all know how [Read more…]