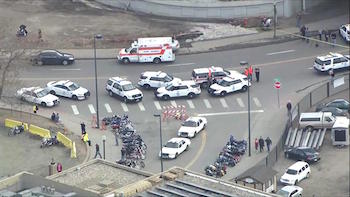 We are gathering information here at Law Abiding Biker™ Media in reference to a biker shooting that occurred on the early afternoon of Saturday January 30, 2016 at the Motorcycle Expo at the National Western Complex in Denver, Colorado.
As usual, other unreputable and rarely viewed biker websites and blogs are already up to their juvenile conspiracy theories with very little information actually released at this time. With integrity, we will cover things fair and balanced here at Law Abiding Biker™ Media.
The traditional media outlets are being fed like puppets as usual and headlining things like "cop club" starts brawl and "cop club" shooting. They like printing "cop club" in the headlines as it sells commercial spots & makes people actually read their articles.  If they only printed a headline saying "biker gang shooting", nobody really cares to read that anymore.  Come to a real biker website like this Law Abiding Biker™ to learn the actual truth.
Related Article:
It appears the biker brawl was between members of the Mongols MC, an admitted 1% er outlaw motorcycle gang (OMG), and the Iron Order Motorcycle Club, an admitted law abiding biker club. No, the Iron Order MC is NOT a Law Enforcement Motorcycle Club (LEMC) as some want to claim to validate their own conspiracy theories.
If you want to call the Iron Order a "cop club" then you better be ready to call organizations like the Combat Veteran's United MC a "cop club" too, because they have LEO's & military among their ranks.  There are many other law abiding biker clubs with some LEO's as members.
During our two-part Podcast interview series with Ray "Izod" Lubesky, it was learned that there are LEO's in the Iron Order MC, but a very small overall number. Ray Lubesky was one of the founders of the IOMC and long time International President. He explained they have a very diverse membership of people within the club to include Doctors, Lawyers, Truck Drives, Carpenters, Dentists, Military, LEO's and so on. So, why not call the Iron Order MC a "carpenter club"? As I stated, because that doesn't sound as juicy as a "cop club"  for headlines & conspiracy theories.
Listen to Podcast Episodes 64 & 65 with Ray Lubesky:
At a 6 p.m. news conference, Denver Police Chief Robert White said four people were shot and one person was stabbed. One person died and three are in critical condition. Three others received minor injuries.
Information and sources indicate it is a Mongol MC member that is deceased. No arrests have been made, but one person of interest in connection with the incident is being questioned. The Motorcycle Expo will not open tomorrow for safety reasons in the wake of these violent events.
There was no security screening at this event and there were innocent woman and children present. Are motorcycle events going to have to take a more proactive approach by not allowing bikers to wear colors? Should law abiding bikers, the motorcycling majority,  not support events that allow outlaw motorcycle gangs inside? If it weren't for the law abiding bikers attending (99% ers), these events simply would not exist. These are just questions, so leave your comments below this article if you have any thoughts.
Let's not forget another senseless event we reported on in Podcast Episode #63.  On June 26, 2014 at 8:00 PM Iron Order MC member Kristopher Stone was forced to shoot criminal outlaw biker Zachariah Tipton after he and another Black Pistons member stalked him & then committed a brutal two on one gang-style assault on him outside Nippers Beach Grille in Jacksonville Beach, Florida. Based on the overwhelming evidence & video footage, the State Attorney stated that Stone was well within the law to defend his life from the brutal attack.
UPDATE 02/01/16:
Authorities on Monday identified the 46-year-old Mongol MC member shot and killed as Victor Mendoza.  An attorney for the Mongols said he was a member of the club. Several guns have been recovered, but no arrests have been made. Seven men were injured in the fight; three remain in critical condition.
Denver police Cmdr. Ron Saunier said the battle started as an argument at the bottom of a stairwell and quickly escalated. Investigators are still unsure what the fight was about.
John C. Whitfield, a lawyer for Iron Order, said the group is despised by counterparts. Their three-piece patch, their law enforcement membership and their club colors are points of contention.
"When you start wearing patches like the three-piece patch, even if you wear a certain color, it can make some of these 1 percent clubs unhappy," Whitfield said. "Because of that we are always getting poked and tweaked. It has led to some altercations."
Typically, new MC clubs are expected to ask permission from outlaws like the Mongols MC before using certain insignias. Whitfield says the Iron Order has not followed that unwritten rule.
The Iron Order says a Colorado Department of Corrections officer fired a shot during the expo brawl, and the DOC confirmed Monday evening that employee Derrick Duran was involved.
The Bureau of Alcohol, Tobacco, Firearms and Explosives said in a 2014 report that the Iron Order's patch "has infuriated" members of several outlaw groups, including the Hells Angels, Iron Horsemen, Pagans and Bandidos. Back-and-forth beatings ensued.
Podcast Episode #63 Link:
We will continue to report on this situation as details and actual real evidence become available. We hope to have a podcast on the matter out very soon, so stay tuned.
Get hooked up with the Law Abiding Biker™ Podcast:
You can listen to the Law Abiding Biker Podcast on iTunes, Stitcher Radio, or right from our Free Smartphone App!
Podcasts & Articles of Interest:
Join the Free Email Club!
If you appreciate this free information make sure to join the thousands of law abiding bikers that have already joined the free Email Club! You will be notified of new useful motorcycle content and techniques as we put them out. Join the Community now!