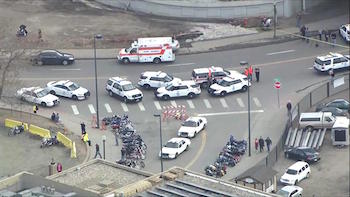 I am writing this article completely independent as a long time law abiding biker and in reference to the bad information being reported about the recent biker shooting and stabbing January 30, 2016 at the Motorcycle Expo at the National Western Complex in Denver, Colorado.
I am not corrupted or influenced by any special interest groups like the mainstream media and other basement bloggers clearly are. The mainstream media are not bikers and know nothing about the biker community, which is why they will never report correctly on biker incidents like this.  They are printing what they are being fed by special interest groups within the motorcycle community & are being manipulated like puppets, which is common.
I have no affiliation with either of the motorcycle clubs involved, neither the Iron Order MC nor the Mongols MC. I have never personally experienced a problem with members of either club. I am not here to speculate or purposely target either motorcycle club. With integrity, I will report the truths and facts & let the appropriate criminal investigation of the incident play out.
The Iron Order Motorcycle Club is NOT a law enforcement motorcycle club or "cop club" as so many want to call it to justify their childish conspiracy hallucinations and false theories.  The fact is, that a very small overall number of the Iron Order's membership are Law Enforcement Officers (LEO's). The real truth is that the Iron Order MC is made up of carpenters, truck drivers, dentists, lawyers, doctors, and military personnel, just to name a few. And yes, some LEO's.
So, why are we not calling the Iron Order MC a "doctor club", "carpenter club", or a "veteran's club" when more of those type of members exist. I'll tell you why-because it is not "sexy" for the basement bloggers and traditional media to call it something else. If they call it a "truck driver" club then it will quickly defeat their agenda and conspiracy rants about police and government conspiracy. They couldn't fuel headlines like "cop club shoots Mongol" if they called it a "dentist club". "Cop club" sounds "sexy" doesn't it?
Clearly our society is overwhelmed with information and to be quite honest (not trying to offend any particular career),  if the mainstream media and basement bloggers ran headlines reading "truck driver club shoots Mongol" a very small percentage of people would be interested. It is so much more sexy to call the Iron Order a "cop club" and it sells commercial spots. It's about money like usual and what will draw readers.
If you are going to call the Iron Order a "cop club" then you better be ready to call the Combat Veteran's United MC  (used as an example only) a "cop club" also, because they have both combat veterans and LEO's within their ranks. There are many LEO's that are also combat veterans.
Some time back, I interviewed Ray "Izod" Lubesky on the Law Abiding Biker™ Podcast , who was long time International President of the Iron Order. He explained the diverse backgrounds of the members within the Iron Order MC & how very few are LEO's. He also spoke of the fact that the Iron Order MC screens it's members for felony convictions, which would not allow a biker to become a member within the club. Further, he spoke of the very large number of members the Iron Order MC has and that many in the outlaw biker community don't agree with the fact that they are wearing a three piece patch in particular areas and not asking permission of outlaw motorcycle gangs (OMG's). Because of this, the Iron Order MC has experienced problems with many OMG's, who have confronted them over the years.
Many are talking out of both sides of their mouth. First they say the Iron Order is a "cop club" and then turn around and say it is an "outlaw motorcycle gang". The Federal Government has not labeled the Iron Order MC as an OMG. That is heavily due to the fact that their members are not being arrested under the Racketeer Influenced and Corrupt Organizations Act (RICO). I searched far and wide and can't find articles of Iron Order members being arrested for RICO crimes and serious felonies like so many OMG members are, such as the Mongols MC. Please do your own internet searches for arrests and see what you find.
Listen to Podcast Episodes 64 & 65 with Ray Lubesky:
I am not defending the Iron Order MC in any way at this point. Absolutely nobody else knows at this point exactly what happened during the Colorado incident unless you were directly involved or witnessed it first hand. And even then, things happen fast and there will be conflicting stories among witnesses and certainly among participants.
Note: Let's not forget another senseless event we reported on in Podcast Episode #63.  On June 26, 2014 at 8:00 PM Iron Order MC member Kristopher Stone was forced to shoot criminal outlaw biker Zachariah Tipton after he and another Black Pistons member stalked him & then committed a brutal two on one gang-style assault on him outside Nippers Beach Grille in Jacksonville Beach, Florida. Based on the overwhelming evidence & video footage, the State Attorney stated that Stone was well within the law to defend his life from the brutal attack. Even with all the evidence in the open, basement bloggers still rant that it was a government conspiracy.
We also reported about a biker shooting that occurred on February 28, 2015 in Meridian Mississippi at Echo Lounge.  Some limited information was out that it was an altercation between the Iron Order Motorcycle Club and either the Pistoleros MC and/or the Bandidos MC. The Pistoleros MC is a puppet club for the Bandidos. No arrests have been made to my knowledge and I have reason to believe it is still an active case.
The Bureau of Alcohol, Tobacco, Firearms and Explosives said in a 2014 report that the Iron Order's patch "has infuriated" members of several outlaw groups, including the Hells Angels, Iron Horsemen, Pagans and Bandidos. Back-and-forth beatings ensued.
Make note that here at Law Abiding Biker™ we have never reported that every single biker in every criminal outlaw motorcycle gang, such as the Mongols MC, is committing daily criminal acts. That would make us like the basement bloggers to assume and place broad stereo-types. However, it is fact based on history and evidence that there are factions within outlaw 1%er clubs that are committing and continue to commit criminal acts to include murder, assault, extortion, racketeering, robbery, & drug trafficking just to name a few. And it is tolerated within the clubs and many look the other way.
Again, I am making no determination at this point about who started or is responsible for the Colorado biker altercation. I am stating facts about the Mongols MC and what can be learned by your own simple internet searches. The Mongols MC is clearly labeled an OMG by the Federal Government. They proudly claim that they are a 1%er outlaw motorcycle gang by wearing the patch. Taken from the homepage of their own official website proudly telling the world they claim 1%er status and are the "baddest".
Brotherhood and Biking for over 40 years. We are the MONGOLS MC, the Best of the Best! The baddest 1%er Motorcycle Club known worldwide. 
Many members of Mongols MC members are serving time in prison for things such as murder, assault, extortion, racketeering, robbery, & drug trafficking, just to name a few. And Mongol MC members and other criminal outlaw club members continue to be arrested for an array of crimes. I have found no evidence that this is true for the Iron Order MC at this point.
It makes sense that if you are going to call the Iron Order a "cop club" then let's all call the Mongols MC a "veteran's club", because they have a large portion of their members that are military veterans. But, then we would have to call the Iron Order a "veteran's club", because they have a large number of military veterans among their ranks too. Then we would all be so confused…….I've made my point.
Recent Podcast Episode we did on the Lisa Ling CNN Mongol MC Special:
Update on the Colorado Biker Shooting:
Authorities on Monday identified the 46-year-old Mongol MC member shot and killed as Victor Mendoza.  An attorney for the Mongols said he was a member of the club. Several guns have been recovered, but no arrests have been made. Seven men were injured in the fight; three remain in critical condition.
Denver police Cmdr. Ron Saunier said the battle started as an argument at the bottom of a stairwell and quickly escalated. Investigators are still unsure what the fight was about.
John C. Whitfield, a lawyer for Iron Order, said the group is despised by counterparts. Their three-piece patch, their law enforcement membership and their club colors are points of contention.
"When you start wearing patches like the three-piece patch, even if you wear a certain color, it can make some of these 1 percent clubs unhappy," Whitfield said. "Because of that we are always getting poked and tweaked. It has led to some altercations."
Typically, new MC clubs are expected to ask permission from outlaws like the Mongols MC before using certain insignias. Whitfield says the Iron Order has not followed that unwritten rule.
The Iron Order says a Colorado Department of Corrections officer fired a shot during the expo brawl, and the DOC confirmed Monday evening that employee Derrick Duran was involved.
A ton of law abiding biker clubs wear a three-piece patch on the back of their vest and will continue.  The days of having to ask permission to wear a patch are long gone and really juvenile when you actually think about it.  That bad part of biker history is fading away and for the best. Law Abiding Bikers are the motorcycling majority and 99% of all bikers out on the roads & it is a free country, so do as you please!
So, quit listening to all the rumors and get out there and ride Bikaholics! Let the investigation on the Colorado biker shooting take it's proper course.
Join the Free Email Club!
If you appreciate this free information make sure to join the thousands of law abiding bikers that have already joined the free Email Club! You will be notified of new useful motorcycle content and techniques as we put them out. Join the Community now!