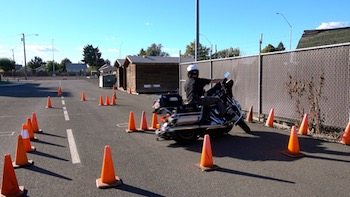 In this video, I compare the stock OEM Harley Dunlop American Elite tires to the Michelin Commander II. Which tire is best? Well, that is dependant on what you are looking for. See comparison video below!
Harley-Davidson motorcycles have different weight and torque characteristics than most other bikes on the market. Dunlop has been working with Harley for years to develop great tires that work very well on Harley's. The Dunlop American Elite tire is built to wear more evenly over time, ride quietly, and work on many different surface conditions. Dunlop is the only motorcycle tire for Harley-Davidson that is designed in America, made in America, and tested in America.
The dual-compound construction of the Dunlop American Elite uses a high-wearing, long-lasting compound in the center of the tire to maximize life and a softer, more grippy compound on the sides for excellent handling. Dunlop says that the American Elite handles as well in wet weather conditions as the Michelin Commander II handles in dry conditions. Dunlop stands behind their own in-house tests done at their expansive Huntsville, Al proving grounds that demonstrates this impressive wet-weather performance.
More recently, Michelin has started to get into the Harley OEM tire game under their "Scorcher" product line. Our 2016 Dyna Low Rider S here at Law Abiding Biker Media came stock with Scorcher tires.
The Michelin Commander II tire for Harley has a lighter, stronger carcass made with modern materials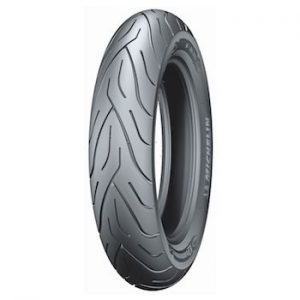 called Aramid, a generic name for Kevlar, fibers which are super lightweight, but even stronger than steel. Michelin says the stylish tread pattern of the Commander II tire for Harley not only looks high-performance, but it's long grooves evacuate water quickly for excellent wet weather performance. The carcass of the Michelin Commander II is built with Silica Rain Technology (SRT) which integrates silica into the compound of the tire tread for superior traction in wet weather conditions.
Michelin conducted three years of customer-focused research at shows, events, and with focus groups. Michelin is proud to say that the Commander II is the first tire they've ever designed that was 100% directed by customer feedback. Michelin says that their tests have shown the Commander II is capable of nearly twice the distance covered by its direct competitors.
Appreciate what we do? Want to support us?
Note: Affiliate links in this article. No additional cost to you, but if you click through and make a purchase we get a small commission. It helps support our efforts to help bikers.
GET THE DUNLOP AMERICAN ELITE TIRE:
GET THE MICHELIN COMMANDER II TIRE:
My experience and opinion: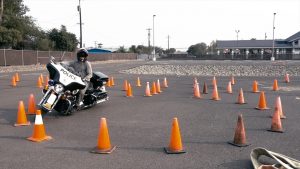 The Dunlop is known for it awesome performance while the Michelin is known for getting more miles before replacement. The Dunlop American Elite tire is really good in all conditions, but you'll get fewer miles out of it. The Michelin Commander II is a great tire if you just want to lay down a lot of miles and aren't necessarily an aggressive rider.
I am a full-time LE Motor Officer who rides a Harley on duty daily and I also rides tons of miles off-duty on my personal Harley. I can tell you that I personally stick with the Dunlop American Elite. I ride aggressively in many different environments and surface conditions. I train and ride at higher speeds and lower speeds and train often. The Dunlop is an all around great tire for confident more aggressive riders. I have qualified on our police motorcycle qualification courses in the rain and the Dunlop American Elite grips strong and is truly amazing. I have much trust in the Dunlop tire. I'm okay giving up some miles out of a tire for excellent performance.

The Michelin Commander II tire for Harley is a great tire for those that may not want to ride so aggressive and for a rider that wants to just lay down the miles and tour. In the rain and while riding the way most average riders do, the Commander II will be a great tire. The best part is that you will likely get more miles out of the Commander II than the Dunlop American Elite. Generally speaking, the Commander II is known for going longer before needing to be replaced.
Understand, that the number of miles you'll get out of any Harley tire will vary greatly from rider to rider. There are many determining factors on how long your tire will last. Your riding style and environments you ride in will determine the life of a tire.
There is no reason you need to pay a Harley dealership to remove your front or rear wheel from your Harley for a tire change. With our free tutorial videos, you can do it yourself right in your own shop or garage. See video links below!
If you don't have a tire changing device then you can then simply take your wheel to any motorcycle shop and have them put the new tire on the wheel. We also have a free tutorial video on how to remove the tire from you wheel with a manual tire changer.
Harley Front Wheel and Rear Wheel Removal Videos:
We talk about a ton of stuff like this on the weekly Law Abiding Biker Podcast. Check it out and become part of the community!

Join the Free Email Club!
If you appreciate this free information make sure to join the thousands of law abiding bikers that have already joined the free Email Club! You will be notified of new useful motorcycle content and techniques as we put them out. Join the Community now!