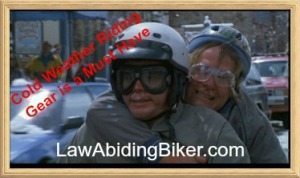 So, last week a bunch of us here at Law Abiding Biker Podcast & Media made a 318 mile round trip day ride up north (Wenatchee, WA). The temperature that day was supposed to hit a whopping 45 degrees, so we went for it and left around 10:00 am to give the frosty corners some time to thaw. Up to this point it had not reached over 30 degrees for several weeks in Yakima, WA. At this point we were stoked to ride even though there was still snow off the sides of the road.
A lot of bikers won't ride in anything but warm weather and good conditions (use good judgement though with road conditions). We call those people "garage bikers"; keep it in the garage unless it is perfect weather (nothing against them of course). Not us, as we are always itching to ride and winters can seem longer than they really are around here.
If you are going to ride year around then you better be prepared for all conditions. You don't want to be miserable on your ride, which will keep you from heading out the next time and you will be missing out on all the fun.
Consider using our Revzilla, Rocky Mountain ATV or Amazon Affiliate Links if you are going to purchase anything and found this information useful.
I did a lot of research on heated motorcycle riding gear and some time ago I bought what I thought was the perfect items to fit my needs. I love the heated gear I chose for many reasons.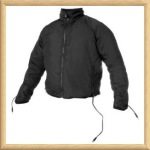 I chose FirstGear heated gear. The 90 watt jacket liner is awesome and the only heated item I wear when riding back and forth to work in the winter time. It is only a 20 minute ride, so I don't put on the rest of the heated gear. On our ride last week, the highest I ever had to turn my heated gear to was 2/3 power on the  wireless controller. That is rare that I ever have to turn it that high, but we were doing 70 mph in 40 degree weather for a very long distance. I stayed nice and toasty with a T-shirt underneath and outer riding jacket over (Harley 360 Illumination Jacket). You don't want to wear a thick T-shirt or thermal type gear under the coat liner, as that would defeat the purpose. I did that one time and it blocked the heat from reaching my core. Just wear a cotton T-shirt and then your core can get the heat from the coat liner.
This jacket liner is the only thing you plug into your motorcycle with one cable. You simply install a small power box with leads to your battery and hide it under your seat. Then you can snake the main connect cable anywhere you want, so you can plug your jacket in. My cable comes out at the front of the seat near my tank and is hardly noticeable.
As I said, I usually just wear my heated jacket liner for most shorter trips. However, the last week was a long ride and I geared all the way up.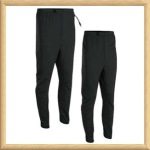 The next item I have is the FirstGear heated pant liner, which plug directly into a cable that comes off your heated coat liner (you see how this is starting to plug together). Again don't wear any thermal gear or anything else under the pant liners.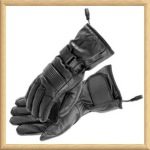 The next item I have is the FirstGear heated gloves, which plug into the cables coming off the end of the sleeves of the heated coat liner. There are also glove liners that will go under whatever existing gloves you have if you like. An alternative to this and so you can wear thinner glove are Heated Grips, which we produced a complete tutorial video for!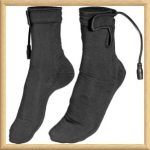 Last, I have the FirstGear heated socks, which plug into the cables coming off the cables at the bottom of the pants liners.
And that is how I roll and how I did so the last week on our winter ride north. Just wear a pair of light cotton socks and put the heated socks over.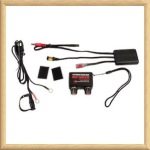 The last thing you'll need is the wireless dual remote control heat troller (they do make a wired one if you want a permanent mount, but I go wireless for convenience). With the dual remote control the first knob controls your jacket and glove heat and the second knob controls your pants and socks.
They do make a single remote heat-troller, which would control everything with one knob, but I suggest the dual knob version, as I like my jacket and gloves a different temperature than my pants and socks. The heat troller has no wires and I just velcro it to my dash area. You can just throw it in a pocket too if you want. It easily pairs with a receiver inside the coat liner.
There is other heated gear out there, but I can tell you that I have used and tested this gear to the fullest and have really nothing bad to say about it. I have used it much and will continue to do so.
There is heated gear that is battery powered out there, but it only last for a certain amount of time. For a simple install and one wire I just like the fact that my gear will heat as long as I want and I don't have to worry about charging it. I keep the heated jacket linker in my saddle bag for emergencies.
So, get your bike out of the garage and go ride!