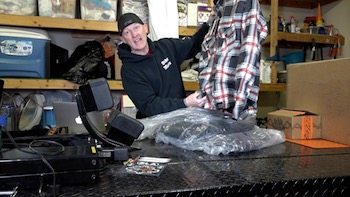 Video-The crew at Revzilla decided to send us a few motorcycle products here at Law Abiding Biker™ Media, Inc to test and review. We appreciate Revzilla's continued support of this platform. You may have heard us talk about Revzilla on the weekly podcast or in many of our YouTube videos. We trust Revzilla and ask our audience to use our Revzilla Affiliate Link when making purchases. It helps support us and there is no additional cost to you.
In this quick Vlog, I show you what they sent us and do an unboxing! It's some pretty cool stuff and we can't wait to test and review all of it! Stay tuned and subscribe to your YouTube Channel so you're notified when these and other great videos get released.
Note: Affiliate links below to items we were sent.
They sent us a Bassani Road Rage 2-Into-1 Exhaust System For Victory 2010-2017. The pipes came with Bassani End Caps For 4″ Quick Change Series. We are going to install these on Rick "Big Daddy" Kane's 2015 Victory Magnum. Stay tuned to our YouTube Channel for that video and we'll also be discussing it on the Law Abiding Biker Podcast.
Revzilla also sent me three pairs of protective riding shoes! I'm super stoked to review these shoes & have reviewed others. These shoes often times offer more protection than boots and are more comfortable for off the bike activities.
Additionally, Revzilla sent me some progressive protective riding gear. This gear is very wearable and offers some great protection without sacrificing looks. It can function off the bike as well as on the bike. That's what I really like about this progressive protective riding gear. It looks great and offers more protection than most of the standard cruiser gear you see riders wearing.
I am a fan of protective and stylish riding jeans for the same reasons I mentioned above. I have already reviewed several riding jeans and my mission continues here. I was sent Rokker Original Jeans. They are constructed of heavy duty 13oz medium blue, stonewashed denim with an internal layer of 100% Schoeller-Dynatec fabric for extreme abrasion resistance. These should be a great addition to my collection of protective riding jeans and I can't wait to ride with them.
Last, Revzilla sent us a pair of Roland Sands Tracker Grips for Harley-Davidson with fly-by-wire. We have found Roland Sands products to be of great quality. We are going to put these grips on our 2016 Harley-Davidson Dyna Low Rider S. We recently did an install of 12″ MX T-bars handlebars and filimed it. These grips will make a great addition to the look and feel of the bike.
We will be testing, reviewing, and installing these items, so stay tuned.
Join the Free Email Club!
If you appreciate this free information make sure to join the thousands of law abiding bikers that have already joined the free Email Club! You will be notified of new useful motorcycle content and techniques as we put them out. Join the Community now!