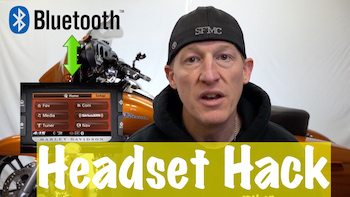 We get a ton of emails and question on our YouTube Channel about pairing a bluetooth headset "directly" with the Harley Davidson Boom Box Infotainment system. We have done much work behind the scenes testing and researching this matter for all you Bikaholics out there. Stop searching the messy & confusing motorcycle forums. We have the answers right here to all your questions. We get our information from many trusted sources & the biker community.
Note: See below for best "WIRED" and "WIRELESS" Harley Headsets!
The Answer:
The answer to the question is, no. Currently, you can't "directly" pair any current brand of wireless Bluetooth headset with the Harley Boom Box. You must check out this workaround to get a bluetooth headset to pair with the Boom Box!
Harman Kardon, the creator of the Boom Box, did not build the Boom Box to accept what's called an HSP, headset profile. They only built it with what's called an HFP, hand's free profile, to sync with devices such as smartphones and MP3 players. My prediction is the current versions of the Boom Box will never have an HSP. Maybe a future model of the Boom Box will have it.
Understand, the Boom Box was specifically designed to work with a wired headset. If a future Bluetooth headset that "directly" pairs with the Harley Boom Box becomes available we will certainly let you know. UPDATE: Check this awesome workaround out!
Join the Free Email Club!
If you appreciate this free information make sure to join the thousands of law abiding bikers that have already joined the free Email Club! You will be notified of new useful motorcycle content and techniques as we put them out. Join the Community now!