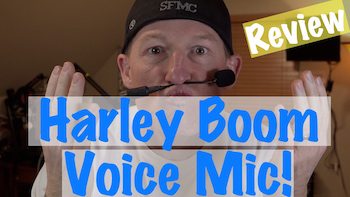 We have received a ton of emails and comments on our YouTube Channel, so we thought we would address this for all you Bikaholics out there!
You may have come across items on eBay and Amazon labeled "Wireless Microphone for 2014 & up Harley Davidson" at a cost of around $45. Basically, it is nothing more than a flexible stick microphone that plugs into your Harley Davidson 7 pin headset port on top of your gas tank on full touring Harley models. It has a foam wind screen over the mic to cut down on wind noise.
UPDATE HERE-BEST HARLEY-DAVIDSON HEADSETS!
The claim is, you can sit up straight, ride on down the road, and give voice commands to the Harley Boom Box System without the use of a "wired headset." I submit that this is a wired microphone (minus ear speakers) as it plugs directly into the 7 pin connector. After giving voice commands, the voice within the Boom Box will respond through your stereo speakers.
The Boom Box Infotainment System is capable of voice commands such as navigation, making phone calls, changing radio stations, finding songs/artist by name on your paired smartphone or MP3 device, skipping to the next song and so on.
Related Article:
We obtained one of these microphones upon numerous requests by our audience and we put it to the test. Of course, we put it all together for you in a free informational video. You make your own decision on whether you want one of these microphones for your Harley Boom Box.
As usual, we tested this microphone in a real world [Read more…]