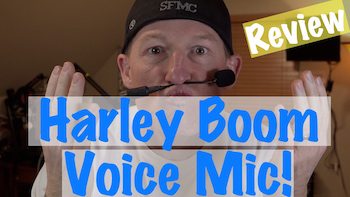 We have received a ton of emails and comments on our YouTube Channel, so we thought we would address this for all you Bikaholics out there!
You may have come across items on eBay and Amazon labeled "Wireless Microphone for 2014 & up Harley Davidson" at a cost of around $45. Basically, it is nothing more than a flexible stick microphone that plugs into your Harley Davidson 7 pin headset port on top of your gas tank on full touring Harley models. It has a foam wind screen over the mic to cut down on wind noise.
UPDATE HERE-BEST HARLEY-DAVIDSON HEADSETS!
The claim is, you can sit up straight, ride on down the road, and give voice commands to the Harley Boom Box System without the use of a "wired headset." I submit that this is a wired microphone (minus ear speakers) as it plugs directly into the 7 pin connector. After giving voice commands, the voice within the Boom Box will respond through your stereo speakers.
The Boom Box Infotainment System is capable of voice commands such as navigation, making phone calls, changing radio stations, finding songs/artist by name on your paired smartphone or MP3 device, skipping to the next song and so on.
Related Article:
We obtained one of these microphones upon numerous requests by our audience and we put it to the test. Of course, we put it all together for you in a free informational video. You make your own decision on whether you want one of these microphones for your Harley Boom Box.
As usual, we tested this microphone in a real world environment and not in a controlled setting. We want to know how things work for the average everyday biker out there on the road.
Testing Overview:
Tested on a 2015 Harley Davidson Ultra Limited with a Harley Boom!™ Box Infotainment System
12″ windshield
Multiple Days
No wind
Multiple roadways
Multiple speeds
Only slip on aftermarket mufflers on bike

Just a bit louder than stock
Test Results:
With bike stationary and engine at idle

Voice commands/recognition worked well
Phone calls could be made and the party on the other end could understand

Riding at 25 mph

Voice recognition/commands only worked 60% of the time even with a raised voice
Had to raise voice quite a bit for party on other end of phone call to hear

Riding at 60-70 mph

Failed on all levels at these speeds

No voice recognition/command capabilities at all
Person on other end of phone call could make out nothing that was said

Rider even yelled, but it did not help
Rider also leaned down with mouth right above mic and it did not help
Summary:
Our opinion is that this may have an use for bikers, but with obvious limitations. A biker might use this at very low speeds around town or at stops during the trip. One might give voice commands to set GPS destinations or make a quick phone call before heading out at higher freeway speeds.
Our personal opinion is there are more reliable items on the market for giving voice commands to your Boom Box system that will work in all conditions. And those particular headsets also have great headset speakers for hearing the built in voice respond back to your commands.
Join the Free Email Club!
If you appreciate this free information make sure to join the thousands of law abiding bikers that have already joined the free Email Club! You will be notified of new useful motorcycle content and techniques as we put them out. Join the Community now!