We installed the Ohlins 13″ S36 Blackline Rear Shocks on my 2014 Harley-Davidson Street Glide Special. After riding my Harley with the newly installed Ohlin's rear shocks on a 10-day, 4,000-mile road trip, and on many different road surfaces, I can highly recommend these shocks and decided to carry Ohlin's right in the Law Abiding Biker Store. In this tutorial video, we show you exactly how to install Ohlin's rear shocks and how to adjust things so you have the proper sag and proper rebound dampening. (see detailed install video below)

WHY I CHANGED MY HARLEY REAR SHOCKS:
I was not happy with the overall ride of my 2014 Harley-Davidson Street Glide Special, which came with the standard manually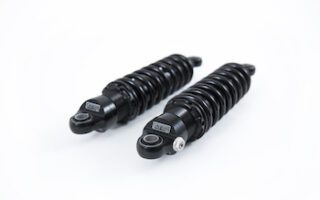 adjustable rear shocks that Harley has used for many years now on its touring models. I wanted a smoother ride, better cornering abilities, and adjustable preload and dampening, all of which the Ohlins 13″ S36 Blackline Rear Shocks have!
WHY I CHOSE 13″ SHOCKS:
A Harley Street to Road Glide Special comes stock with 12″ shocks and you can certainly maintain the 12″ when choosing your Ohlin's rear shocks from the Law Abiding Biker Store. However, I ride and corner my Harley hard and am constantly dragging floorboards and supports. By installing the 13″ Ohlin's rear shocks, I raised my Street Glide Special 1″ which gives me more lean angle. It's definitely noticeable when riding. You really can't visually tell the bike has been raised 1″. Note that Harley models like the Ultra Classic come stock with 13″ shocks. The special models come with 12″ shocks.
REVIEW/THOUGHTS:
I was absolutely blown away at how much smother my Harley rode and cornered after installing Ohlin's rear shocks! I did not realize what a difference good rear shocks would make! Wow, it was more than I even expected and I highly recommend upgrading your rear Harley shocks to Ohlin's! It even got rid of most of the bagger wobble while cornering at faster speeds. My Harley just rode like a completely different bike!

There are several different models of Ohlin's shocks in the Law Abiding Biker Store with different price points and options. It will all depend on your wants and needs.
If you appreciate all the free videos, podcasts, & articles we put out, please consider supporting us by purchasing from the Law Abiding Biker Store! We'll take care of you! Bikers helping bikers.
Other videos of interest:
HELP SUPPORT US! JOIN THE BIKER REVOLUTION! #BikerRevolution #LawAbidingBiker #Bikaholics
🛒SHOP IN THE LAW ABIDING BIKER STORE 🛒
😎BECOME A MEMBER AND GET BENEFITS 😎
📹GET PREMIUM MOTORCYCLE TUTORIAL VIDEOS 📹
🎬WATCH OUR MOTORCYCLE DOCUMENTARY FILMS HERE🎬
📱SHOP OUR AMAZON RECOMMENDED PRODUCTS 📱
🎙CHECK OUT THE WEEKLY PODCAST 🎙
Join the Free Email Club!
If you appreciate this free information make sure to join the thousands of law abiding bikers that have already joined the free Email Club! You will be notified of new useful motorcycle content and techniques as we put them out. Join the Community now!