In this video, I explain everything you need to know about the first-ever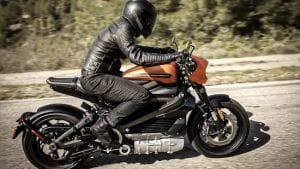 electric motorcycle from Harley-Davidson called the LiveWire. The new motorcycle comes with a hefty price tag, starting at $30,000. However, the build quality is above competitors such as Zero Electric Motorcycles. They say the Harley LiveWire will do 0-60 mph in under 3.5 seconds and has a top speed of 110 mph. The Harley-Davidson Revelation™ Permanent Magnet Electric Motor can produce 100% of its torque instantly! (see video below)
The LiveWire comes with Brembo Monoblock 4 piston brake calipers and has dual front disc brakes up front. Additionally, the LiveWire is equipped with a SHOWA mono-shock on the rear and SHOWA inverted front forks and both are adjustable for rider comfort and performance. The lightweight cast aluminum frame on the Harley LiveWire is extremely rigid and contributes to its precise responsive handling. The LiveWire also comes stock with ABS brakes and traction control. We haven't seen traction control on any other Harley models, so that's exciting.

The onboard battery pack will give you a range of 110 miles when tested in mixed city use. Using a Level 3 DC charger, the battery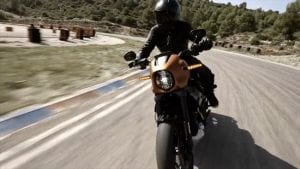 will charge to 80% capacity in 40 minutes. There are several options for charging the LiveWire. Aside from a fast Level 3 DC charger, you can also just plug it into your standard electric plug-ins in your garage and charge it overnight.
The Harley Livewire comes with Harley-Davidson Michelin Scorcher Sports Tires, which were designed exclusively for the Livewire to enhance the ride and handling. It has a 180mm rear and 120mm front tire.
The Harley LiveWire comes with an infotainment system mounted up on the handlebars and it seems it's made by Panasonic. We hope this system actually works well, unlike the infamous Boom Box Infotainment System, which has had major problems since it was first introduced on 2014 touring models. Check out my complete Harley Boom Box Video Tutorial Series.
The LiveWire infotainment system is a 4.3 touchscreen full-color LCD. It has integrated GPS, speed, range, battery status, turn-by-turn navigation, music, alert information, and more.

If you want to pay a monthly subscription for the cellular telematics connectivity powered by Panasonic®, you'll be able to connect to your LiveWire through the Harley-Davidson app using your smartphone. You'll be able to remotely see your battery status, the location of the LiveWire, and if it's being tampered with. You'll also be able to find charging stations nearby. Harley says the service will be free for the first year and paid after that but they have not announced an official price yet.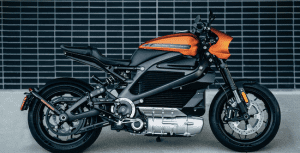 The Harley LiveWire comes in three colors. You can choose from orange fuse, yellow fuse, and vivid black. It is available for pre-order and will release in August 2019. Not all dealerships are opting in to carry the LiveWire as it's expensive to do so. Dealerships who opt in will have to support the LiveWire and have a Level 3 DC charging station installed.
HELP SUPPORT US! JOIN THE BIKER REVOLUTION! #BikerRevolution
🛒SHOP IN THE LAW ABIDING BIKER STORE 🛒
😎BECOME A MEMBER AND GET BENEFITS 😎
📹GET PREMIUM MOTORCYCLE TUTORIAL VIDEOS 📹
🎙CHECK OUT THE WEEKLY PODCAST 🎙
Join the Free Email Club!
If you appreciate this free information make sure to join the thousands of law abiding bikers that have already joined the free Email Club! You will be notified of new useful motorcycle content and techniques as we put them out. Join the Community now!