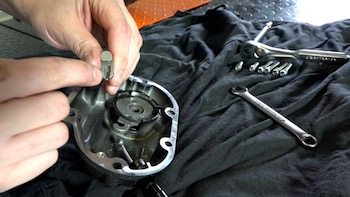 Video-In this free DIY video we show you how to remove your Harley side transmission cover and an easy way to disconnect & then replace your Harley clutch cable inside. Make sure you have a new side cover gasket ready to go and some oil/fluid to replace what you loose when removing the side transmission cover. There is also a small rubber o-ring you might want to have on hand to replace where the clutch cable enters the side cover. It can get damaged during removal/install. It can be re-used if it looks like it's in good condition.
Video of Interest:
(You may have to remove the entire assembly & we've got you covered)
2014 & newer Harley Davidson's have hydraulic clutches, so this side transmission cover is just for looks and you'll lose no oil when removing it. There is just a bleeder valve for the hydraulic clutch line hidden behind it.
This particular segment of video is taken directly from our #1 ranked Harley Handlebar install series of videos. If you think this free video of ours is detailed, you really need to see our premium videos! We have you completely covered, regardless of what type or height of handlebars you want to install on your Harley. Trust us, there is no need to take your Harley to a dealership and pay $1,000 to $2,0oo to have them do this for you. You can do it right in your shop or garage, right on the kickstand, and no specialty tools are required.
Bikers around the world are installing the handlebars of their dreams themselves right now on their Harley's while watching our tutorial videos. Have the pure satisfaction of wrenching on your own Harley!
All you need is to pick the Harley handlebar install video that best fits you. Find all the information here:


If you appreciate this free video and information then please purchase any products using our below affiliate links.
(no additional cost to you, but it helps support us).
Join the Free Email Club!
If you appreciate this free information make sure to join the thousands of law abiding bikers that have already joined the free Email Club! You will be notified of new useful motorcycle content and techniques as we put them out. Join the Community now!