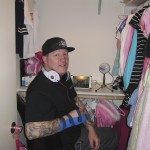 Blog-Well, this podcasting adventure has been something I've wanted to do for a long time as you likely heard in my first podcast episode.  I explained on my podcast how I just want to get rich content out to whatever audience wants to listen.  I hope this podcast and website is a platform that all law abiding bikers (LAB's) from all over become comfortable coming to.  My right hand is still injured and of no real use. Luckily, I have dictation software and a trackpad that I can use with my left hand.  Having only a left hand to use certainly slows things down a lot.  This picture is of my very humble beginnings with the very limited podcasting equipment that I have at this point.  I only have a condenser mic and so to get any kind of decent audio quality I actually did my first podcast in one of my daughter's closets. 🙂  Pink is her favorite color if you cannot tell.  I am using all kinds of mismatched equipment that I already had, but I hope it is good enough for now until I can get better equipment to use for you guys.  This has been expensive enough as it is with audio hosting, website hosting, and other services and items I am paying for.  Nothing comes cheap; right?  However, I don't mind starting humble, as I will appreciate it when I have a great set up someday with everyones awesome support and positive feedback I am getting!
Okay, so my daughter's closet was extremely cramped, hot, and stuffy on the first podcast.  Also, I really found I needed my Mac computer in front of me as a resource.  So, I made the move to my office and I devised a way to get somewhat decent sound quality with the condenser mic I am using.  My computer sits inside an armoire, so I draped a big thick quilt over me and the armoire and used duct tape to secure it.  It's basically a home-made tent that I now sit in while giving my podcasts to deaden echoing sounds.  It was a big move up in the podcasting world for me (LOL), as is not nearly as stuffy and I have more resources at my hands.
And this is just me working in my LAB after completing a law abiding biker (LAB) podcast.
I sincerely hope you are all enjoying the podcast and I thank you for the overwhelming positive responses I am getting!! That motivates me more than anything to keep pumping these podcasts and blogs out to you guys.
-Ride safe and keep the rubber side down.