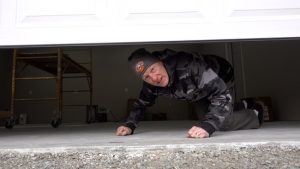 Nearly two years ago we envisioned the new Law Abiding Biker Media Studio and Shop Facility. Construction started nearly 5 months ago. We are excited to announce that it's mostly complete and we have moved in. We still have many things to do, but we can at least start creating videos and podcasts in the new facility. We want to sincerely thank each of you in the community that supported our mission in building this new facility to move forward with our mission of helping as many bikers as we can worldwide.
We did fall well short on the fundraiser campaign, but still moved forward with construction and cut costs where we could. Many other things can be added in the future as funds become available. After we get more organized and get things in place in the facility, I will put out a complete in-depth video tour on this channel, so get subscribed so you're notified. Hit that bell icon!! Thanks again to the entire law abiding biker community for being involved in the Biker Revolution!
SUPPORT US INTO THE FUTURE!! JOIN THE BIKER REVOLUTION!
🛒SHOP IN THE LAW ABIDING BIKER STORE 🛒https://shop.lawabidingbiker.com
😎BECOME A MEMBER AND GET BENEFITS 😎https://www.patreon.com/scrappy
📹GET PREMIUM MOTORCYCLE TUTORIAL VIDEOS 📹https://www.lawabidingbiker.com/buyvideos
💰LEAVE A FLAT DONATION 💰https://www.lawabidingbiker.com/donate
🎙CHECK OUT THE WEEKLY PODCAST 🎙https://www.lawabidingbiker.com/app
List of videos and info since we started this project:
Join the Free Email Club!
If you appreciate this free information make sure to join the thousands of law abiding bikers that have already joined the free Email Club! You will be notified of new useful motorcycle content and techniques as we put them out. Join the Community now!