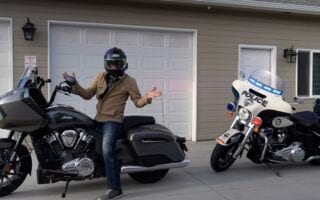 I compare an Indian Challenger to a Harley Road Glide in this video and tell you what you need to know if you are considering purchasing either. We were fortunate to have this Indian Challenger for a few weeks and filmed a complete 12″ handlebar and heated grips install on it. A detailed tutorial video will release eventually, so you can save money and do this project yourself. The stock handlebars are not comfortable for many and will need to be changed out. Or maybe you just want to add some unique style to this bike. (see review video below)
Check out our Harley Handlebar Install Tutorial Videos if you want to save money and change out the bars on your Harley in your own shop or garage! You can definitely do it with standard tools and we've helped a ton of bikers do this for many years now!
I ride a 2018 police Harley Electra Glide with the Milwaukee-Eight 107 ci air-cooled V-Twin engine for my day job so I can loosely compare it to the new Powerplus 108 ci liquid-cooled engine coming in the Indian Challenger. I also ride my Harley Street Glide Special with the 103 ci engine off-duty many thousands of miles a year along with other bikes. I am also a police motorcycle instructor and I hope all of this qualifies me to review and compare the Indian to the Harley-Davidson.

I used the base model Indian Challenger for this review. Now, this base model is identical to the Indian Challenger "Limited" and the Dark Horse, the black limited model, except for they cost $5,000 more.
But, those more premium models are also coming with a few extra things and those are:
Baked in GPS Navigation in the Ride Command Infotainment System

Remotely locking saddlebags

TPMS-Tire Pressure Management System

Indian "Smart Lean Technology"
Smart Lean Technology is Indian's version of Harley's RDRS or Reflex Defensive Rider System. Basically, both these systems adjust traction control and ABS systems based on lean angle making riding safer. Now, that's a very dumbed-down version of what these systems do. If you want to learn all about RDRS and whether you should spend the money on it, check my RDRS video out.
A couple of other things worth noting on these rider safety systems are:
You can't get the Indian Smart Lean Technology as a paid option on the base Indian Challenger model. So, you have to get the Challenger Limited or Dark Horse to get the Smart Lean Technology.

However, you can add Harley's RDRS to either the Road Glide or RG Special for $1,000.

Both Indian models do come standard with 3 ride modes, which the Harley does not

Rain, Standard, and Sport modes

The Harley Road Glide base model has a base price of $21,700 in comparison to the Indian, which is $23,000. So a Harley costs $1,300less. And for $1,000 you can add the Harley RDRS, which still makes it $300 less than the Indian. You don't have the option with the Indian Challenger base model.
The Harley base model Road Glide comes with a 107 ci air-cooled M8 motor. If you get a Road Glide Special, you bump to the M8 114 ci and that bike will cost you $26,700. You can add that RDRS for $1,000, making the total $27,700. The Indian Limited costs $300 more, coming in at $28,000. The base model Indian Challenger and Limited both come with the power plus 108 ci water-cooled engine. So, there is no engine bump for moving to a limited.
The base model Road Glide comes with a 4.3 non-touch screen Boom Box infotainment system, while the Special model comes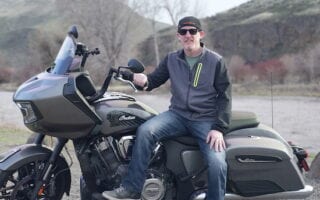 standard with the larger Boom Box GTS touch screen system while both models of the Indian come with the 7″ Ride Command touch screen infotainment system.
We did a video on our YouTube channel
showing you how to upgrade
your Harley 4.3 Boom Box or to upgrade your older Boom Box, but it will cost you about $1,500 if you do it yourself.
Engines and "general" specs:
Harley Road Glide Base Model:
Milwaukee-Eight® 107 ci V-Twin engine
Air cooled
85 -90 Horsepower
111 ft lbs of torque
Harley Road Glide Special:
Milwaukee-Eight® 114 ci V-Twin engine
Air cooled
100 horsepower
118 ft lbs of torque
Indian Challenger Base Model & Limited:
108 ci V-Twin engine
Liquid cooled
122 HP
128 ft lbs torque
Yes, the Indian 108 ci motor has more power and it can certainly be felt when rolling the throttle. I know so many riders love hearing "more power", but let's be realistic here. The Indian's and Harley's in this category are for "touring" and long-distance riding. Both bikes have sufficient power to carry all your gear, passenger, and have plenty of passing power for getting around traffic. If you want only power and speed, then you should not be buying a touring bike in the first place. Go get a sports bike.
Suspension:
Yes, the stock Indian front (inverted forks) and rear suspension feel better than the Harley stock suspension but it's not a mind-blowing difference at all in my opinion. I've toured so many thousands of miles on my 2014 Harley Street Glide with stock suspension and had no issues. Many do upgrade their Harley suspension though and that's rider preference.
Brakes:
The brakes feel good on Indian Challenger during emergency drills. It was really hard for me to tell any difference between the Harley and Indian except that the Indian Anti Lock Brakes kick in with very little brake pressure. Almost too soon in my opinion.
Traction Control:
The traction control on the Indian is a nice feature for many riders. However, I would not rely on it. During my tests spinning out in gravel, it takes a while before it catches up and understands the rear wheel is spinning. Then it backs off power to the rear wheel. But, it'd likely be too late in an actual situation. It's worth noting that I only tested the traction control while in sport mode.
Common Items:
The Harley Road Glide weighs about 850 lbs while the Indian Challenger comes in about 20 lbs lighter at around 830 lbs. Both bikes have 6 gallon tanks but the Harley is getting better gas mileage at 45 mph while the Indian is getting around 40 mpg. Both bikes have adequate storage space in the saddlebags.
Infotainment Systems:
Both the Harley Boom Box and Indian Ride Command systems have plenty to offer. I will say that for a new user, the Ride Command's user interface seems a bit easier to learn. You should know that the Indian Challenger base model does not come with GPS navigation and it just put up a screen to call the dealership when I tried to use it. The Indian Challenger Limite does come with GPS navigation but after two years they want to charge you a monthly fee to keep certain features. Harley does not do this and I appreciate that.
The Indian does have a toggle on the left controls but it only does certain things on the Ride Command. For many things, you have to remove your hands from the bars and actually use the touch screen. In comparison, the Harley has toggles on the left and right controls and you can 100% control everything on the Boom Box without removing your hands and this is a big win for Harley.
Don't let anyone tell you that the Indian Ride Command is superior to the Harley Boom Box. In my short time using the Ride Command I found some glitches, which the Harley Boom Box also has. It's expected, as these are computer systems and they try to work out the bugs through software updates.
The Harley Boom Box is very capable and integrates their free Ride Planner online trip-planning software. Check out our very popular Harley Boom Box tutorial video series to get up and running quickly with the system and to learn all the tips and tricks, so you can get the most out of it. We'll help flatten the learning curve so you can spend less time learning and more time riding!
Windshield: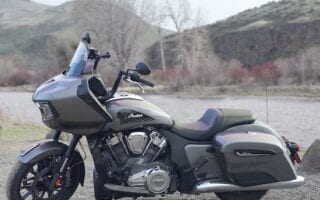 The Indian does come with an electronically adjustable height windshield. Now, I had one of these in the past motorcycle and I honestly never used it. I wear a modular helmet and just pop it up if I want some extra air. I just buy a windshield that properly directs the air over my head and I'm good to go. Now, some may use this feature. I will say that because of the electronic windshield on the Indian you are going to be very limited with aftermarket windshield options. So, although it seems great, I am not a big fan of that feature. With a Harley, the aftermarket windshield options are endless. You can really get any look and performance you want.
Then Indian Limited and Dark Horse do come with remote locking saddlebags and that's a big win for the Indian. Harley does not have this and definitely should here in 2021.
Throttle Response:
I did that when snapping the throttle the Indian has much more of a lag and the Harley and I noticed it right away. I will say that this Indian was completely stock and had not air, exhaust or EFI tune, so maybe that would change.
Final Thoughts:
The Indian is a badass bike and I think you'd be totally satisfied if you purchased it. The same thing goes for the Harley Road Glide. Much of it will come down to rider preference. If money were not an issue, I'd own one of each.
But, for now I'll stick to Harley and one of the main reasons is that there are a ton of aftermarket parts and you can more easily customize it. That's part of the sport and lifestyle, customizing your ride. Indian lacks diversity and support for aftermarket parts.
Also, the Indian has its air cleaner hidden under the fuel tank so the engine side cover is just for looks and not an actual air cleaner. This is going to limit you greatly on a great looking air intake system.
Additionally, Harley has a much larger dealer network and support when traveling cross-country, which is very important.
Further, I don't like how Indian uses plastic to cover all the mechanical components, much like a sports bike. Harley leaves these areas open and I really like seeing those mechanical components on the Harley and it allows further customization options. And at this point, I don't like the large radiator on the frot of the bike for the water cooled engine. I know it's necessary for water cooled but that's a big reason I still like air cooled motorcycles. That big radiator is just not a great look in my opinion.
Ride Safe!
Join the Free Email Club!
If you appreciate this free information make sure to join the thousands of law abiding bikers that have already joined the free Email Club! You will be notified of new useful motorcycle content and techniques as we put them out. Join the Community now!