Video-In this video we show you how to install aftermarket grips on a Harley-Davidson with an electronic throttle by wire. You can see our Harley grips with cable throttle install video here.
There are many different styles of aftermarket grips for Harley. Grips not only add style, but comfort depending on the thickness.
In this particular video, we installed Roland Sands Tracker Grips For Harley Fly-By-Wire on a 2016 Harley Dyna Low Rider S.
Note: If you appreciate this free video, consider supporting us by purchasing these grips or any other items through our Revzilla Affiliate Link. No additional cost to you, but if you click through and make a purchase, we get a small kick back.
EXACT GRIPS WE USED IN THIS VIDEO: (Affiliate Links)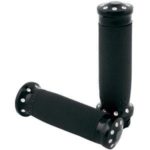 Roland Sands Tracker Grips For Harley Fly-By-Wire