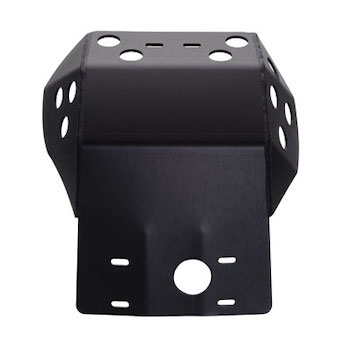 There are a handful of things you should do right away to your Kawasaki KLR 650. One of those things is to get rid of the flimsy stock skid plate as it offers little protection. If you plan on riding off-road at all you'll want to protect the case and underside of your KLR with something solid and well built.
I installed a Ricochet Offroad Skid Plate on my Kawasaki KLR 650 and have no complaints. In this video, I review this skid plate and show you how to install it on a 2018 KLR, but it should be the same for many years. I also installed a Tusk low-profile magnetic oil drain plug at the same time, as the OEM drain bolt will hang out the bottom and could get sheered off.
This plate is made from either 5/32″ or 3/16″ thick aluminum alloy plating and is shaped to give maximum protection to your engine, frame, and cases thanks to the extended "ears" on the sides. Mount the plate onto your bike using the included steel clamps and you'll still be able to access important areas thanks to the maintenance cutouts in the plate. You can get the Ricochet Offroad Skid Plate in anodized black or silver.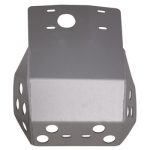 You can support us and purchase this skid plate from our store!
Specs:
Made from 5/32″ or 3/16″ Aircraft Grade Aluminum
"Ears" design protects vulnerable engine components
Clear Anodized Finish or anodized black
Mounted with super tough steel clamps
Cutouts for easy maintenance
Join the Free Email Club!
If you appreciate this free information make sure to join the thousands of law abiding bikers that have already joined the free Email Club! You will be notified of new useful motorcycle content and techniques as we put them out. Join the Community now!
Ricochet Offroad Skid Plate
Summary
I am very happy with the build quality and abilities to protect the underside of my KLR. This skid plate is solid as is the hardware included for installation. I like that it comes in anodized black or silver. With my tutorial video, you can have this skid plate installed in no time.