Podcast: Play in new window | Download | Embed
Subscribe: Apple Podcasts | RSS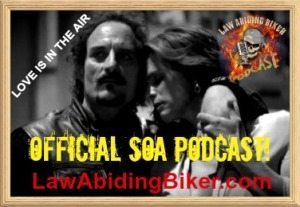 PODCAST-In this podcast episode we cover Sons of Anarchy Season 7 Episode 10, which aired on November 11, 2014 and was titled "Faith and Despondency".
We all saw the opening montage with numerous sexual scenes. Tig with Venus, Gemma with Nero, Chibs with Sheriff Jarry, Rat with some blonde whore, Happy with a whore, Juice taking it from behind from Tully, Jax with with a whore, and poor Wendy taking care of herself. We later see that Tig and Venus are going to take their relationship to the next level and maybe play house or something.
Nero still wants to sell off his half of Diosa to Mayans President Marcus Alvarez. Nero has grand plans on moving to a farm and taking Gemma with him. Jax does not seem ready to loose Nero as a business partner.
Abel is having problems since he has been eavesdropping on Gemma in past episodes. He is self mutilating and then advises child protective services that Gemma caused his injuries. Abel ends the episode by basically telling Jax that Gemma killed Tara. While the child services investigation is being conducted Gemma cannot see Abel and Thomas. Wendy moves into Jax's home to watch the boys and they seem to be getting very close again even though they are divorced.
There is a power struggle within the Aryan Brotherhood and a guy named "Otis" is taking over as Tully's first hand man on the outside. Leeland is being replaced and not happy about it. Otis seems loyal to SAMCRO. Leeland later shows up at the hospital to kill Deputy Egly, who is still recovering from being shot by him and his crew. He thinks she is going to talk and wants her dead. However, Jax and crew get a heads up from a pissed off Aryan Brotherhood member they shoot and later kill. Unser is waiting at the hospital for Leeland and puts three bullets in him.
Need a motorcycle cell phone or GPS mounting solution Bikaholics?

That's right, Law Abiding Biker Media put our logo on these mounts & we personally use them on our motorcycles!

The sexiest, lightest, and strongest mounts available period.
Good prices and fast shipping from our store?
Check out our COMPLETE REVIEW
Tyler is still loyal to Jax, although the episode made us have our doubts. Rat and T.O., the Grim Bastards MC President, are taken by Moses Cartwright. Tyler acted as if he was giving T.O. up to prove his loyalty to August Marks, who is in jail after Latricia's affidavit and the pastor's body were found on his construction property.
Tyler gives Jax and crew the heads up. Rat and T.O. are beat some in the same holding cell that Bobby occupied before his death last episode. T.O. acts as if he has been broken and gives Moses a false map to where Latricia and her son are being held for protection. Waiting at the location are SAMCRO, Otis and some other AB, and the Grim Bastards. In vengeance for Bobby, Jax rips Moses' eyeball out, others cut his fingers off, and Jax shoots him in the head.

Patreon
Sons of Anarchy Season 6 Episodes:
Sons of Anarchy Season 7 Episodes: