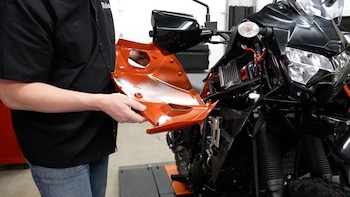 In this video, we show you how to install a 12-volt power port on a 2022 base model KLR 650. Don't pay for the expensive kit from Kawasaki. All you need is a marine-grade 12-volt power port or a marine-grade, an automotive relay, and some bullet-style crimp connectors.
We take you step-by-step through the installation process to include the tools needed. If you like this free video we would greatly appreciate you purchasing the required items through the affiliate links below. There is no cost to you and we get a small commission.
Here is a list of the items we purchased for this install:
Cell Phone Mounting Solution for 2022 Kawasaki KLR 650:
HELP SUPPORT US! JOIN THE BIKER REVOLUTION! #BikerRevolution #LawAbidingBiker
🛒SHOP IN THE LAW ABIDING BIKER STORE 🛒
😎BECOME A MEMBER AND GET BENEFITS 😎
📹GET PREMIUM MOTORCYCLE TUTORIAL VIDEOS 📹
🎬WATCH OUR MOTORCYCLE DOCUMENTARY FILMS HERE🎬
🎙CHECK OUT THE WEEKLY PODCAST 🎙
Join the Free Email Club!
If you appreciate this free information make sure to join the thousands of law abiding bikers that have already joined the free Email Club! You will be notified of new useful motorcycle content and techniques as we put them out. Join the Community now!