Save money now. Adjust your clutch internally on your Harley Davidson yourself.

Have the pride & satisfaction of working on your own Harley!

Do it in your garage or your workspace! 
Another Free Video By Bikers for Bikers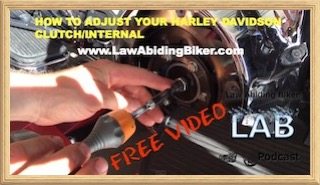 This is a complete and thorough tutorial video on adjusting the clutch internally on your Harley Davidson motorcycle with a cable operated clutch. This is not for Harley models with a hydraulic operated clutch. 
Why waste your money by having to take you Harley to the dealer for such an easy project? We guarantee you will be able to do this yourself after watching this video.
We take off the clutch inspection cover and expose the clutch to do this. An internal clutch adjustment can be done whenever you like. If it is difficult at times to find gears when shifting, if your bike is shifting a bit rough, or if the clutch won't start engaging until you have let the clutch lever out all the way then go ahead and adjust it. Refer to your owner's manual for specific adjustment intervals.
Once you adjust the clutch internally you can then make fine adjustments on the clutch lever to make it feel how you want. There is also a free video on this page for that adjustment.
How to adjust Harley Davidson Clutch Internal
VIDEO-How to adjust your Harley Davidson clutch cable/lever

If you appreciate free information and techniques like this make sure to join the thousands of law abiding bikers that have already joined the free Law Abiding Biker Podcast & Media Email Club!! You will be notified of new useful motorcycle content and techniques as we put them out. Join the Community now!