Save money now. Install rear LED lights on your Harley Davidson yourself.

Improve your visibility & ride safer!

Have the pride & satisfaction of working on your own Harley!

Do it in your garage or your workspace right on the kickstand!
Another Free Video By Bikers For Bikers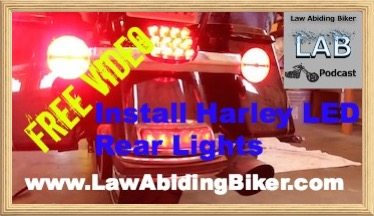 VIDEO & BLOG-This is a complete instructional tutorial video on how to install Harley Davidson brand rear LED tail/brake lights and turn signals on your Harley Davidson motorcycle. And of course brought o you by the very popular Law Abiding Biker Podcast & Media!
We did the LED lights install on a 2013 Harley Davidson Ultra Classic. So, check the video out and don't pay a Harley mechanic to do this project. Save your money, because we know you can do this. You don't need a motorcycle jack, motorcycle lift, or any special tools. You can do this project right on the kickstand!
After watching this video you will certainly be able to install LED rear lights & signals on your Harley Davidson motorcycle. This video is as detailed as any of our other Law Abiding Biker videos and it shows you step-by-step how to do this. We give you great angles and it is as if you are right there with us helping.
Install LED Brake Lights & Turn Signals on Harley Davidson
We purchased Harley Davidson brand LED tail lights and signals to do this project. We used the following Harley parts and numbers:
Layback LED Tai lamp Part #67800357 $159.95
Bar & Shield rear LED turn signals part #68128-10 $159.95
The Safety Benefits of Motorcycle LED Rear Lights:
So, many motorcyclists worry when coming to a stop or slowing to make a turn about the vehicle's following them. Us defensive riders always look in our mirrors to try and see if the car behind them is looking and slowing. We often look for an escape route in case the car following us doesn't slow.
The last thing we want is to be rear ended by that aggressive driver following too close or texting. It is harder to watch in your mirrors all the time in heavier traffic or in that stop and go traffic. There are many dangers out there for bikers/motorcyclist, so we do what we can to better our odds.
Of course there are ways to better your chances of not getting rear ended on your motorcycle by installing rear LED tail lights, brake lights, and turn signals. That gives you a better chance that the driver's following you will be alerted before you slow or turn. These rear Harley LED lights are much brighter than the stock ones and can be seen much more easily.
So what are you waiting for? Install some rear LED lights on your Harley Davidson motorcycle now!

If you appreciate free information and techniques like this make sure to join the thousands of law abiding bikers that have already joined the free Law Abiding Biker Podcast & Media Email Club!! You will be notified of new useful motorcycle content and techniques as we put them out. Join the Community now!