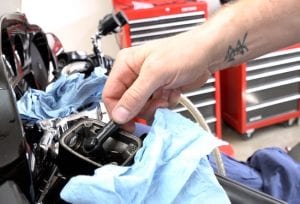 Harley-Davidson recommends that you replace/flush the DOT 4 brake fluid in your Harley clutch system every two years regardless of mileage. In this completely free tutorial video, we show you how to flush your Harley clutch system right in your own shop or garage with minimal tools, so you don't have to pay a Harley dealership to do it.

Here are some affiliate links to the equipment we used to do this project. No additional cost to you, but if you click through and make a purchase we get a small commission. It helps support free videos like this!
Bleeding your Harley clutch system and flushing the system is basically the same process. When bleeding your clutch system, you just add new fluid to the old in the master cylinder and pull fluid through the lines until you get all the air out of the system. When you flush your Harley clutch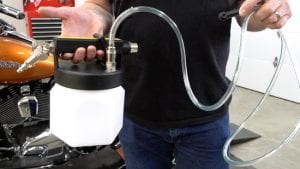 system, you are replacing all your old DOT 4 fluid with new. You remove all old fluid from the master cylinder and then put new fluid in and bleed the clutch system until all the old fluid is evacuated along with any air, thus having all new fluid in the clutch system.
Why should you flush your Harley clutch system every two years you ask?
As DOT 4 brake/clutch fluid in your Harley ages, its chemical properties deteriorate and it absorbs water. This changes the physical properties of the DOT 4 fluid, which can lead to clutch issues such as it not fully disengaging. Left unchanged, it could lead to complete clutch failure.
As mentioned, DOT 4 brake fluid absorbs water. Because water boils at 212°F, less than half the temperature of brake fluid, any water in the brake fluid dramatically reduces its boiling point. When brake fluid boils it converts any water in the fluid to gas. And because gas is more compressible than liquid, when brake fluids boil, the clutch may not fully disengage when the lever is pulled in.

Recommended items for this project:
In this tutorial video, we use a Mityvac MV6835 Vacuum Brake Bleeding Kit, which will help you easily flush your Harley clutch system. A less expensive clutch bleeding kit we used for years is the MV8000 Automotive Tune-up and Brake Bleeding Kit & it works very well. We also use a Brake Fluid Tester to te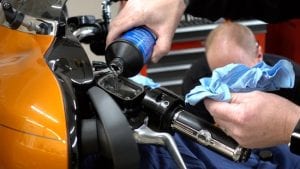 st the DOT 4 brake fluid in the clutch system for moisture. If you ever find your Harley brake fluid has 3.7% or higher water content by volume, it's recommended that you change it, even if it hasn't been two years.
This clutch fluid issue discussed in this article is not specific to Harley as all motorcycles use much of the same DOT 4 brake fluid. Harley was just getting ahead of the game and recommending changing it out every two years to avoid any problems. You should do this on your motorcycle regardless of what make.
Tip: Don't store your opened unsealed DOT 4 brake fluid for any length of time. You can discard it after you use it. Once unsealed, DOT 4 brake fluid will collect moisture and that's exactly why we're flushing our systems in the first place.
Join the Free Email Club!
If you appreciate this free information make sure to join the thousands of law abiding bikers that have already joined the free Email Club! You will be notified of new useful motorcycle content and techniques as we put them out. Join the Community now!