VIDEO/BLOG-This is a complete and extremely thorough review video and blog about the Harley Davidson Illumination 360 Functional Jacket.  I go into detail and show you every feature built into this jacket. 
I have always worn leather coats under my leather motorcycle biker club vest during the winter months while riding my motorcycle.  However, for years I have thought of switching away from the leather coat and going with a new fabric type motorcycle jacket.  Technology has come along way with these types of jackets.  They often times are warmer, provide added protection, are more flexible, are rain proof, and warmer.  I'm just a little bit old school, so it took me a while to make up my mind and make the switch.  Of course my motorcycle biker club vest will always be leather and fits right over these types of jackets.  I guess I'm just tired of being all bound up in a leather coat that I can't move freely in.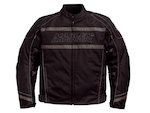 After much research, I finally purchased a Harley Davidson Illumination 360 Functional Jacket and I have been extremely satisfied every since.  I ride all year around as do the members of the Sworn Few Law Enforcement Motorcycle Club that I am involved with.  Ice and snow are the only things that stop us for obvious safety reasons.  
The Harley Davidson Illumination 360 Functional Jacket has vents that are strategically placed and fully adjustable so you can regulate the amount of airflow to keep you comfortable.  It has two vents in the back running vertically and two vents on each arm up near the arm pit area.  The jacket sports a zip out liner for spring riding weather.  I supposed you could wear the jacket all year around with the vents and removable liner, but I won't be doing that. I specifically purchased it for cold and wet inclimate riding conditions and it is working out great. 
During the cold season I wear my First Gear heated jacket liner (www.LawAbidingBiker.com/FirstGear) underneath and it keeps me toast warm.  The HD jacket locks the heat in from my heated jacket liner in very well and doesn't let it escape.  I recently rode in 18 degree Fahrenheit temperatures and only turned my heated jacket liner up 1/2 way and I was fine.  
The garment is waterproof, preventing water from penetrating and keeping you dry while riding in moderate to heavy rain.  I have ridden in rain with it and I stayed completely dry and warm!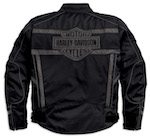 The Harley Davidson Illumination 360 Functional Jacket has built in Nitrex EVO impact protectors in the elbows and shoulders.  Additionally, it has snap tabs that are located on the outer arms near the elbow and forearm region.  These snap tabs are designed so you can make adjustments to keep the impact protectors in place and properly over your elbows.  They also tighten the sleeves to reduce the amount of drag in the garment from wind.  
Strategically placed premium 3M Scotchlite Reflective Material and piping on the garment make the human form recognizable from nearly every angle in low-light conditions, providing you with enhanced rider visibility.  Of course this is dramatically reduced for me, because I wear my leather motorcycle biker club vest over the jacket.  But, the sleeves still have plenty of reflectiveness.  
The jacket is very warm with the liner in and has 3M Thinsulate Insulation, which provides warmth without bulk insulation.  The jacket is moderate in weight, but very flexible and does not restrict my movements like a leather coat does. 
Of course the stitching and quality is awesome and exactly what you expect from a garment with a Harley Davidson logo on it.
I have seen the Harley Davidson Illumination 360 Functional Jacket priced anywhere from $280 to $350.  So do your research and shop around.  I like to keep my money local if I can and buy from my local Harley Dealership when feasible.  However, I gave them a chance on this one, but they would not give me the price that I could get it online for, so I walked.  They are usually very good about matching prices, but I have no problems walking away and buying it somewhere online if they can't.  I have a very good relationship with the folks at my local Harley Davidson Dealership and they know that's how I operate.  
I plan to have the Harley Davidson Illumination 360 Functional Jacket for many years to come and I am getting great use out of it.