BLOG-I humbly ask you to nominate the Law Abiding Biker Podcast for the 2nd Annual (2013) Stitcher Radio Awards!  It's super easy!
You can vote once each day over the nomination period, which lasts through Sunday, December 22, 2013.   6 finalists from each category will be announced on December 31, 2013.  If we make it as a finalist, you can then vote for us again to get the actual podcast award!
Please nominate us for the categories of "Best New Show" & "Best Society &  Culture".  
YOU CAN VOTE DAILY!!
Simple Instructions: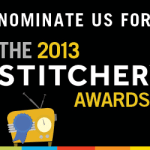 * Click on the Stitcher Radio Nomination Button on your left.
* Follow the simple instructions from there
* Type "Law Abiding Biker" into the 2 appropriate category (a drop down will recognize the podcast) boxes and hit "submit"……DONE! (Repeat and Vote Daily)
Thanks for all you support you have shown us during 2013!!  We truly can't thank you enough.  THIS WOULD BE ICING ON THE CAKE!!