Littleton, Colorado Motorcycle Event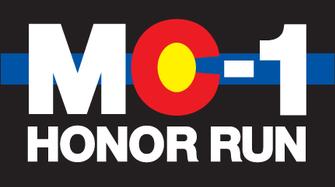 Biker Event-The MC-1 Honor Run benefits injured officers or the families of fallen officers.  This year will be the 3rd annual MC-1 Honor run and will be held on Sunday May 22, 2016 and proceeds of this year's event will benefit Denver Police Officer Tony Lopez, Jr..  Registration begins at 8:00 a.m and the. Ride will start at Columbine H.S. at 10:00 a.m. after the opening ceremony.
Antonio Lopez Jr has been a Denver Police Officer since 2008. Officer Lopez, the oldest of 5 followed in his father's footsteps into his law enforcement career. On December 8, 2015 he was on routine patrol and conducted a traffic stop at 37th and Federal and was immediately barraged with gunfire.

Officer Lopez was shot three times (twice in the left arm and once in the chest) before he was even able to exit his patrol car. After exiting the vehicle he exchanges gunfire with the suspect. During the exchange he was struck by numerous bullets with one striking his in his left thigh; shattered his femur bone and severing the femoral artery. The suspect was struck once in the left ankle and fled the scene and was eventually [Read more…]