Podcast: Play in new window | Download | Embed
Subscribe: Apple Podcasts | RSS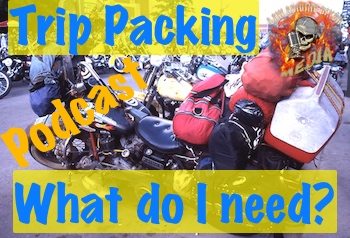 Podcast-There are so many things to think about before heading out for a long motorcycle trip.  It is important to pack key items, but not too many unnecessary items. And so, it becomes a delicate balance.  We all know how limited space can be when traveling on a motorcycle. That is also one of the reasons we love it so much. Pack what you can fit on your bike and ride into the sunset! Free your mind and soul!
This episode is spawned from an internet voicemail we received from audience member David Schwartz from Isreal. He is planning a long motorcycle ride here in the United States very soon and wanted to know what to pack. He wanted our thoughts, experience, and insight into packing for motorcycle trips and that's exactly what we give everyone in this podcast episode.
David Schwartz of Israel also mentioned how pleased he was with our Harley oil change and maintenance video. He has saved a ton of money doing his own oil changes and routine maintenance.
We dive deep into this topic and it will make you think for sure. You might even refine what you pack yourself. This episode was also a live broadcast and we had much input via audience participation over on our Live Page. We appreciate all the Patron Members of Law Abiding Biker™ Media in the live chat.
Being prepared for that long motorcycle trip is very important. We here at LAB Media have changed things throughout the years of riding from both good and bad experiences and we share it all with you. Not being properly prepared can make a trip miserable and take the fun out of it. What are you packing for your next motorcycle trip? Leave your thoughts and comments below this article.
Save this page, so you can use it as a reference in the future. We will be adding things over time and keep it up to date for you! It is completely free to you Bikaholics!
Sponsor for this Episode: (Biker Supporters!)
Please support us and consider using our below affiliate links to purchase any items if you decide to add something to your list based on this or any other free Podcast episode and this article! (No additional cost to you)
List of Items to Pack for Your Motorcycle Trip:
Full Face Helmet

Helps reduce rider fatigue substantially

Keeps the sun from burning nose and face with tinted visor etc.
Great for rain and cold weather

Half or 3/4 helmet

Make sure you have a protective face mask for rain or hail

Rain hits your face like gravel
Hail storm is even worse
Have a good pair of riding goggles/glasses for these conditions

Many bikers pack both a full face for the long day rides and a 1/2 or 3/4 helmet for shorter local rides
Good riding glasses for wearing with 1/2 or 3/4 helmets
 A good thick riding jacket

Best to be water proof or water resistant
Zip out liners are great
Vents on jacket for different conditions is also nice
You may wear a leather jacket instead

If you wear a leather jacket then definitely make sure you have great rain gear (covered below)

Leather vest for warmer rides or light riding jacket
Chaps

Resource for packing chaps, so they don't take up much room

Chap Pack

Good riding jeans or pants
Riding gloves
Good riding shirts

Moisture wicking are great for hot days

Sweatshirts and light jackets for layering (colder weather)

Have several shirts to layer for cold weather riding

Heated gear

Resource for heated gear

Heated vest liner
Heated pants (or heated seat)

Resource for heated seat

Heated socks
Heated gloves (or heated grips)

Resource for installing heated grips on your Harley Davidson (you'll love them)

Good quality Motorcycle Specific Rain Gear (Don't buy cheap regular everyday rain gear or you'll pay)

Good quality Riding Travel Bag if no trunk

Most sit over your passenger backrest and strap down

Socks, underwear, shirts, pants, and shoes for around town if staying for several days at a location

Resource for packing socks, shirt and underwear

Clothes Pack

Hats & beanies

Stocking hats-beanie (for cold conditions)
Baseball hats (if you wear them)

Toiletries

Things such as toothbrush, shave kit, deodorant, etc

Small travel size items can be purchased to save space

Medications

Any medications you take
Ibuprofen etc for those headaches

Good quality sunblock & chapstick

Spray on type is most convenient for bikers

Quick and easy to apply at stops

Face sunblock sticks are great too
Put on multiple coats of sunblock throughout the day

Allergy/Emergency

EpiPen as an example

Allergic to bee stings as an example

Other riders in group should know where you keep it for emergency application

A small tool kit to fix minor issues
A few small rags for fuel spills on gas tank etc
Any cleaners & rags to wipe bugs off windshield etc
Tents, sleeping bag, pillow etc if not staying in hotels
Smartphone & necessary chargers

Law Abiding Biker App installed

To listen to podcasts while riding

Access to the Law Abiding Biker website

To search for things should a question arise

GPS devices or physical maps

Maps loaded and ready to go
Resource for Harley Boom Box Infotainment System and integrated GPS

Complete Tutorial Series Here

Extra bungee cords & motorcycle cargo type net

For securing things to your motorcycle
Extras, because they do break at times

Emergency snacks & fluids

In case long distance between food
Or if you get held up in traffic jams or road closures

I carry granola & almonds in saddlebag
Several extra water bottles in saddlebags

If riding in group

Emergency contact number for spouses/family etc should something happens

Any hotel confirmation or reservation info

I keep it on my smartphone

Possible Misc. Items

Camera/still photography
Video camera equipment

Make sure you have a fresh oil change and safety maintenance has been done recently
Quick Tip and Tricks:
Pack lighter:

You can pack lighter if you know where laundry services are at in a town you may be staying in
Schedule to clean or for someone to clean your laundry while passing through
You can pack much lighter this way and use clothes again

Souveniers & Purchased Items:

Remember that if you buy things on your trip to stop by UPS or USPS and have them shipped back home
They will be there when you return home
You don't have to pack them around this way and are not as limited on the amount of items you can purchase
New Free Video:
New Patrons:
Tim Valdez of Arvada, CO
Sabian Taylor of Smiths Station, AL
Todd Lynn of Bakersfield, CA


Michael Cull of Everett, WA
Dennis Badger of bethel park, PA
Justin Eckland of Merino, CO
Join the Free Email Club!
If you appreciate this free information make sure to join the thousands of law abiding bikers that have already joined the free Email Club! You will be notified of new useful motorcycle content and techniques as we put them out. Join the Community now!