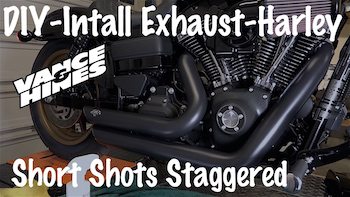 Video-In this completely free DIY video we show you how to install Vance & Hines Shortshots Staggered exhaust on a Harley-Davidson motorcycle. We used a 2016 Harley Dyna Low Rider S (CVO) for this project. However, it will be very similar regardless of what year and model Harley you're putting them on. These pipes come in black or chrome.
We also give you a "before & after" sound comparison between the restricted stock Harley exhaust and the V&H Shortshots. You'll want to wear headphones to get a true sense of the sound difference.
You'll need to remap your electronic fuel injection (EFI) after installing new exhaust on your Harley-Davidson. We suggest you start here and decide which aftermarket EFI tuner you might want to install:
Law Abiding Biker™ Media has already released several EFI tuner install and review videos:
Save yourself a ton of money by not having to take your Harley to the dealership to have these types of projects done. You can do this right in your very own shop or garage and right on the kickstand. Plus, have the absolute satisfaction of wrenching on your own Harley!
Other Harley Exhaust Videos of Interest:


If you appreciate this free video and information then please purchase any Vance & Hines products direct through our Official Law Abiding Biker Store.
Join the Free Email Club!
If you appreciate this free information make sure to join the thousands of law abiding bikers that have already joined the free Email Club! You will be notified of new useful motorcycle content and techniques as we put them out. Join the Community now!