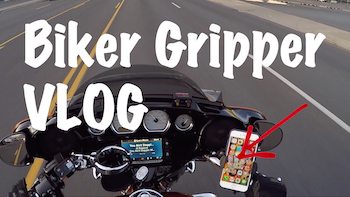 VLOG-Just wanted to do a quick Biker Moto VLOG & was out riding. Most of you know by now how awesome the Biker Gripper cell phone motorcycle mount is. We sell the Biker Gripper exclusively in the Law Abiding Biker Store and have a ton of 5 star reviews! It really is the sexiest, sleekest, and strongest cell phone motorcycle mounting solution on the market. And the universal handlebar mount version makes it cross over to anything with a 7/8″ to 1 1/4″ round bar. That includes street and dirt motorcycles, bicycles of all kinds, snowmobiles, and four wheelers just to name a few!
We recently received an email from a gentleman who was not completely familiar with Law Abiding Biker Podcast & Media to know that we would not sell Biker Grippers in our store if we did not completely trust them. He was concerned about its overall grip strength. Well, I can tell you that it has 18 lbs grip strength and has never failed us. The Biker Gripper even  held in cell phones during motorcycle crashes that Law Abiding Biker personnel were involved in.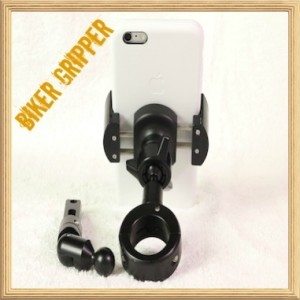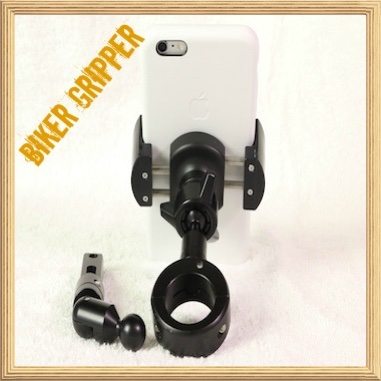 Our Custom Biker Gripper Cell Phone & GPS Mounts
Need a motorcycle cell phone or GPS mounting solution Bikaholics?

That's right, Law Abiding Biker Media put our logo on these mounts & we personally use them on our motorcycles!

The sexiest, lightest, and strongest mounts available period.
Good prices and fast shipping from our store?
Check out our COMPLETE REVIEW
This gentleman did some sort of undisclosed test where claims he smacked the Biker Gripper over his thigh with a phone in it and he claims it came out. We are unsure how many times he did this, how hard, and with what device he mounted in the Biker Gripper. We asked him to send a video of his "test", so we could see the circumstances. But, at the end of the day it doesn't matter as we freely admit that if you put enough unrealistic type forces a phone will come out. I think that the two crashes we have been and the massive amount of miles riding and testing prove that the Biker Gripper can hold on tight.
After explaining this information to the gentleman he decided to keep it and take in on his schduled motorcycle trip. Of course he must of loved the Biker Gripper, becasuse we never heard back. 🙂
Watch the video and ride along with me as I explain more of the story.
Other Related Biker Gripper Content:
Join the Free Email Club!
If you appreciate this free information make sure to join the thousands of law abiding bikers that have already joined the free Email Club! You will be notified of new useful motorcycle content and techniques as we put them out. Join the Community now!