See ALL Official Boom!™ Box Tutorial Videos!
-Join the thousands of bikers that are no longer stressing!
Videos By Bikers For Bikers
If you want to stay up to date on all  Harley Davidson Boom!™ Box updates and issues, subscribe to the free Law Abiding Biker Email list below:

Harley Davidson and Harman Kardon just released Boom!™ Box software update version 1.19.2 on February 1, 2016. This comes right after software update versions 1.19.1.2 was released in December 2015.  We have received many inquiries from bikers asking if they should update to this latest version. It is always a good idea to wait and see if an update fixes more than it breaks and let me have some time to test things.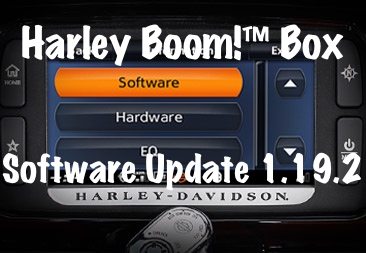 Note: This particular update if for the Boom Box 4.3 Standard, 6.5T Premium, and the CVO 6.5GT systems. I give the go ahead to update to this new Boom Box software update version, 1.19.2.
I installed and tested this update for you. As usual, don't expect any miracles and that suddenly all things will be fixed for ever user. They still have a long way to go to get rid of all the problems that persist with the Harley Boom!™ Box Infotainment System.
FAQ:
Question: If I get behind on updating my Boom Box software, will I have to go back and install each past update I missed?
Answer: No, you do not have to update incrementally. If you get behind, just grab the latest software update here and install it. It will update everything you need including past updates. There is no access to the older updates from the Harley website anyways.
Resources & videos:
Remember; The Harley Boom!™ Box still has many annoying bugs and problems, so don't expect this software update to suddenly fix everything.
If you don't know how to properly update your system software and maps then check out my Official Boom!™ Box Software Update  Video.
This update claims to fix the following: (1.19.2)
Issues Fixed:
Radio Fixes:
– Radio off state remains after ignition cycle.
– Splash screen takes too long to disappear
– Blank menu buttons in high contrast mode
– CB channel and other text difficult to read in high contrast mode
– Road Glide Picon cut off
– Auto-reply nonfunctional after enabling in menu
– Auto dimming day/night transitions faster
Audio Fixes:
– Audio quality "pumping" and "surging" improved.
Media Fixes:
– Last media source remains after ignition cycle
– Favorite hard key not persisting with USB media after ignition cycle
Navigation Fixes:
– GPS Time Incorrect (Incorrect time zone adjustment)
Download Update
The Boom Box & Harley Davidson Ride Planner have been working pretty well together. The Boom Box Navigation has been more stable too! If you aren't using Harley Davidson's Ride Planner to integrate with your Boom!™ Box system then you are missing out on all the awesome capabilities. I have a great Harley Davidson Ride Planner video that will teach you everything you need to know on how to use the free software, download a planned ride, and upload it into your Boom!™ Box.
Of course the purchase of any of my Boom!™ Box series of videos includes free updates as things change with the software updates or new things are learned. All customers that have already made a purchase are getting the latest information, tips, and tricks for free. That is my commitment to the biker community! That's how I roll……………..
Law Abiding Biker Podcast: (Get hooked up and don't miss out)
We discuss the Boom!™ Box system and up to date issues frequently on the weekly Law Abiding Biker Podcast, so get subscribed and always have the freshest information! You aren't going to get it from Harley-Davidson-trust me on that.
As I have stated, Harley Davidson put the cart before the horse a bit on the Boom Box  for the Rushmore Project and is playing catch up now. The system is awesome, but has several issues. I truly believe these issues will be corrected in time with the ongoing software updates.
Remember, the Boom Box is just a computer and needs routine software and map updates just like your smartphone or computer. They are constantly improving the way the system operates and fixing bugs, so this is critical.
Here are some very helpful videos, so you can become familiar with and operate the Boom!™ Box system to include updating the system software:
Keep the rubber side down and the shiny side up!