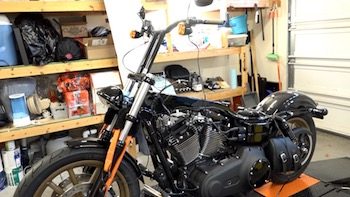 We are installing 12″ Westcoast MX T-bars on a 2016 Harley Dyna Low Rider S. We have the bike on the lift in the Law Abiding Biker™ Garage. Lurch and I broke the Harley down this weekend and filmed it as usual.
No need to pay a dealership to do this for you
There is not much information out right now in catalogs and online on the Dyna Low Rider S, as it was a special production bike. So, we broke it down and measured the stock clutch cable and front upper brake line. We figured out how much over stock length we'd need to go to accommodate these 12″ T-bars.
Armed with proper cable/line lengths, we ordered up what we'd need and had the shipping expedited, so we can put the bike back together next weekend. After we film putting the bike back together, we'll get the video into edit and hopefully release it to the biker community soon! You can check here for the handlebar install video.

2016 Harley Dyna Low Rider S:
**Our Measurements (always measure yourself)
Stock clutch cable= 60 inches
Stock upper ABS Upper Brake Line= 23 inches

Additional Information:
Stock 2016 Dyna Low Rider S handlebars/risers= 6 inch risers

We installed 12 inch Westcoast MX T-bars

We ordered +8 inches over stock cable/line length
Where we ordered T-bars, cables, lines, & bushings from:
Clutch cable, upper ABS brake line, & front ABS brake block
Other options for front ABS brake block
Arlen Ness Flush Mount Handlebar Riser Bolt And Bushing Kit For Harley
Westcoast MX 12: T-bar handlebars

Join the Free Email Club!
If you appreciate this free information make sure to join the thousands of law abiding bikers that have already joined the free Email Club! You will be notified of new useful motorcycle content and techniques as we put them out. Join the Community now!